Monday, March 23, 2009
Olives and Cypresses
A few days ago we were watching the new Bond film, Quantum of Solace. I didn't like the film, even if the leading lady did look a little bit like Rani Mukherjee. I don't like Denis Craig. His perpetually constipated expression somehow makes me think of ducks. But the initial car race and fight in the A1 highway between Bologna and Florence and then in the city of Siena, reminded me that we had never been to Siena. 
Why don't we go to Siena on this weekend, I proposed. On the map it didn't look very far. If we take highway, probably we will be there in less than two hours, I said. Often, my wife is not very receptive to such proposals. She feels that they are too tiring. But this time, she didn't refuse outright, she only frowned and said, we shall see. So I knew, the trip was on. 
The names of certain cities are linked with colours. Like Jaipur is linked with pink. For me Siena is linked with "Burnt Siena". Why did they call that colour "burnt Siena", that particular shade of brown? Perhaps because of the colour of earth in around this city? or because of the colour of buildings there? I don't know.
Yesterday, sunday morning, we started from home around 9.30 AM. My wife had changed from "we shall see" to "what is the hurry? why don't we take the Poretta-Pistoia road and see the small cities on the way?" So we decided, no highway! We shall take the normal road and go slowly, taking time to look around. 
We passed through the quaint town of Sasso Marconi, where Mr. Marconi had done his experiments with wireless telegraph more than one century ago. Then we went through Marzabotto that has a wonderful Ethruscan necropolis that we had visited last year. Up and down the road went, passing through Poretta Terme, in through deep mountain passes with snow capped mountains, towards Pistoia in the Tuscany region. 
Spring had already arrived in Tuscany with new diamond green grass that looked soft as silk. Scattered with gnarled olive trees and tall conical cypresses, Tuscany landscape has a distinctive look. On the road towards Pistoia, we stopped at a bar in Signorino (literally "unmarried man"), where a huge crowd of bikers was having picnic. Very appropriate, we thought. They all did look unmarried!
On the way from Pistoia to Empoli, we saw the indications for Vinci and decided on an impulse that it would be nice to see the birthplace of one of the most accompamplished sculture-painter-scientist of all times, Leonardo da Vinci. The small town of Vinci is on the top of a hill surrounded by the gentle landscape of Tuscany, dotted with more olives and cypresses. Right in the middle of the medieval town centre, a Leonardo square has been created with a wooden sculpture showing one of the well known figures made by him. 
I liked the Guidi square more where a contemporary Italian artist Mimmo Paladino has sculpted the whole square with shapes and images of Leonardo (picture). 
By the time we finished going around Vinci, it was already one of clock. We ate our sandwiches that we had brought from home and then decided to proceed towards Anchiano village about three kilometers away from Vinci, to look at the house where Leonardo da Vinci was born. It was difficult to immagine that a child born in such a humble faraway village would become so famous that his name will be known all over the world (in the picture, Leonardo's house). 
By the time we reached Siena, perched on the top of a hill, we were a little tired. It was already three of clock. Siena seemed to be full of tourists but we were lucky that we found a parking place almost immediately. The narrow winding streets, medieval houses, renaissance buildings, it was very beautiful. A little tired from going up and down the narrow streets, we ate an icecream and listened to a gifted street violinist. 
I had expected to see a small medieval town in the city centre, but what surprised me was the size of the old city. It is huge. I wanted to see the Piazza del Campo, the famous square where the annual Palio horse race takes place. As we walked on and on, there was no sign of this square but arrows on the streets indicated that it was further ahead. Finally when we did come to it, it was one of those "A-ha" moments that you never forget in your life. 
Coming down from narrow winding, dark medieval streets on the hills, the square is like a huge natural bowl, open space between the hills and filled with sunlight, sloping down towards the middle and surrouned by more medieval and renaissance buildings that seem handpainted canvass against the blue sky. There is a beautiful fountain in one corner of the square.
Pictures can't capture its immensity nor the sense the wonder that fills you when you see Piazza del Campo. I had seen it so many times in pictures and films, and yet I had never realized how wonderful it is in reality. It is one of the most beautiful places I have ever seen. 
We are not going to spend too much time here, I told my wife. This city deserves to be seen properly and not in a hurry by tired persons! We will come back here, to spend a whole day or may be a weekend, we agreed, as we walked towards the Duomo (cathedral).
Even the Duomo is very good in Italian gothic style that reminds me of rich wedding cakes, though if you have already seen the cathedrals in Florence and Orvieto, you know what to expect.
We didn't go inside Duomo, instead we walked back towards the parking to get our car. It was almost five o'clock. The journey back home on the highway was quick, it did take less than two hours. And we are sure, we will back in Siena to explore it better.
If you are planning a visit to Italy, do not miss Siena!
Saturday, March 21, 2009
Back in Bangkok
In less than 12 months, I was back in Bangkok for the third time. Probably no other place in the world can beat Bangkok in terms of cost-benefit ratios and that can explain why so many organisations decide to hold international meetings there even if it is not easy to find persons who speak English.
I think that the factors that contribute to Bangkok being a great place for international meetings include the following - good international flight connections, easy to find cheaper flights, good infrastructures, really polite and friendly population, good food and relatively cheap hotel accomodation.
We held the meeting in a four star place called Prince Palace, right to the Bo Bae wholesale clothes market & fruit-vegetable market in a crowded and busy area of Bangkok that is close to the tourist attractions as well. The cost of double rooms including a wonderfully huge breakfast was just 36 Euros per night, that is only 1250 Rs per person per day, an amount impossible to think of even in India, forget Europe. In Italy you can't find a room for that amount even in the bare-essential places run by the nuns. The place is accessible to persons with disabilities and staff was really helpful, always ready to go an extra mile. I don't remember organising such a hassle free international meeting ever before. I mean that in terms of logistics and general issues, since no place in the world can save you from usual problems related to speakers or particiapnts that don't turn up or decide to behave like prima donnas.
This time there was no time for going around the tourist places but still I managed to squeeze in a morning trip to the Ayutthaya, the old capital of Thailand till about 150 years ago. If you like old ruins of Buddhist temples, visit Ayutthaya, it has wonderful atmosphere and the old temples declared as world heritage by UNESCO are unforgettable. I rented a bicycle in Ayutthaya and had a great time cycling around the city.
This trip had a small hitch. At the end of the morning, while walking back to the market to catch the minibus back to Bangkok, I decided to stop at a nice modern looking barber shop. My hair were really long and so I thought that I can get a small trimming. However, my gestures to explain what I wanted were not understood by the young lady in the shop, who smiled at me and before I could understand what was happening, I had a lawn-mower on my head. By the time I could shout and stop her, I already had an almost bald patch on the side my head.
Realising her mistake, the lady suggested that she could make close cut hair on the sides and keep them long in the centre in the horse-mane style popular among certain young persons, who like their hair in bright colours. At the end, I came back almost bald to Bangkok and all the other meeting participants were very surprised by my changed appearance.
So if you want a haircut in Bangkok, remember to explain it really well! Here are some pictures from this trip to Ayutthaya.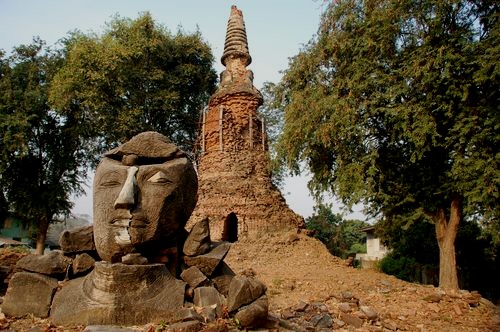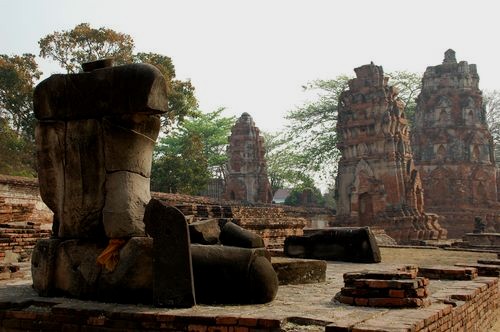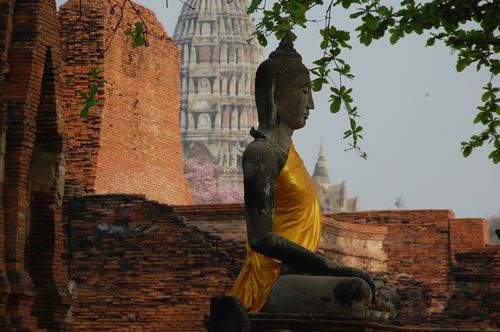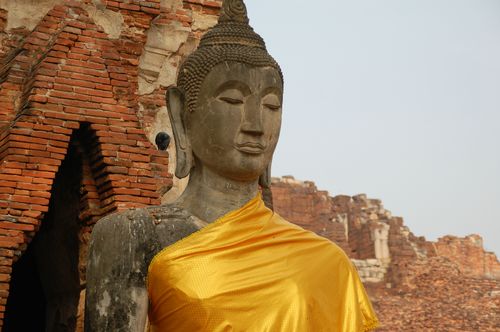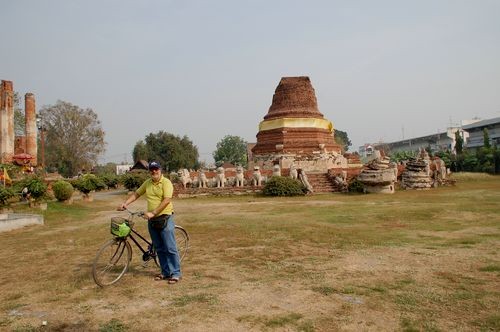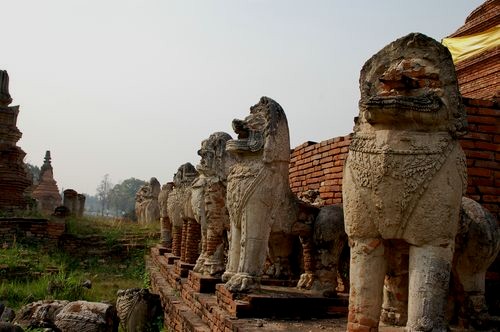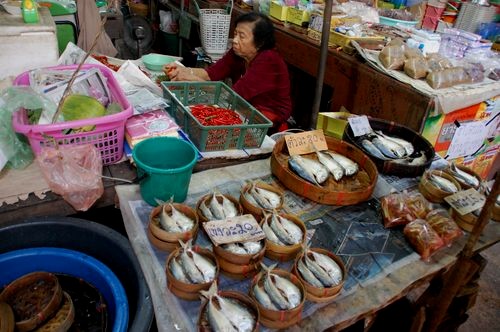 Friday, March 20, 2009
Sonagachi prostitute and the yellow turbaned Sarpanch
The yellow turbaned Sarpanch in the Maharashtra village has a masters degree and practices participatory democracy and development, bringing prosperty to the village and to them the national elections are not so important, the Gram Sabha is much more so.
Durbar, the NGO set up by a group of prostitutes from Sonagachi in Kolkatta is the only organisation providing support to the tribals in an area that saw starvation deaths. To those tribals, the politicians mean nothing, they only see hope in Durbar.
In UP the internet surfing farmer is a millionaire and is providing new agricutlure knowledge to many other farmers. To them the new eight lane highway that is coming up next to their village is their road to prosperity and rather than look at the Ram mandir issue in Ayodhya, they would rather look westwards to Punjab, Haryana and Maharasthra for better agriculture.
In Andhra Pradesh, the world-class road is just a confirmation of the State priority in fighting the Naxalites and it fuels the desire for the separate Telangana state. Prosperity will come with their own state, they are convinced. People are calculating which politicians are likely to support them to realise their Telangana dream.
In Bihar the bicycles for the high school girls may be another round of chess moves between Nitish Kumar, Ram Vilas Paswan and Lalu Prasad, but girls are feeling more confident and see a hope for their future.
These are some of the examples of the stories under India Yatra.
HT has 30 correspondents travelling all over India and collecting stories from places that usually are forgotten in newspapers and TV news. It gives me an opportunity to go beyond the usual media representations of India, to a more varied mosaic of the country. Great stuff and interesting as well.
Subscribe to Posts [Atom]