Kumar Talkies

(1999) Works of Avijit Mukul Kishore

This documentary film made by Pankaj Rishi Kumar dealt with a cinema hall in the small city of Kalpi in North India.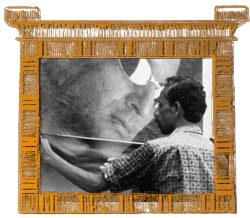 The documentary Kumar Talkies juxtaposes the real world of Kalpi, where the economic crisis has made life very uncertain, with the imaginary world of the silver screen, a world of romance and rebellion, where the impossible is made possible: imaginary images that have started to form part of the collective consciousness of Kalpi. Everyday life in town takes shape in interviews with the inhabitants and their interaction with the crew. In a cinéma-vérité style, the village comes to life: quarrels for the best seat in the cinema, conversations after the film, political debates in the bazaar.
Kumar Talkies does not just look at the meaning of the cinema for the town, but also at the status of cinema in India, and especially the relationship between the major Bollywood productions and their audience. But the film also tells the story of the director's own relationship with the cinema: it was his father who thirty years ago turned an old factory he had inherited into 'Kumar Talkies'.
The film was shown in different film festivals including the documentary film festival in Paris in 2000.
More Works of Avijit Mukul Kishore
Check the full list of articles about the works of Avijit Mukul Kishore.