Our Family

- The Four Legged Kind (3) Part 3 of Memoires by Madhu Kamath

Madhu Kamath, 4 January 2014

Part 1 - Part 2 - Single page format
***
And then came additions of the feline kind to our family when Bukie found a tiny kitten, eyes not yet open, almost in the middle of the road. She brought it home and fed it with a dropper. Fortunately, we have a gate separating the ground floor and the first floor so the dogs would not be able to reach the cat. She was named Daisy.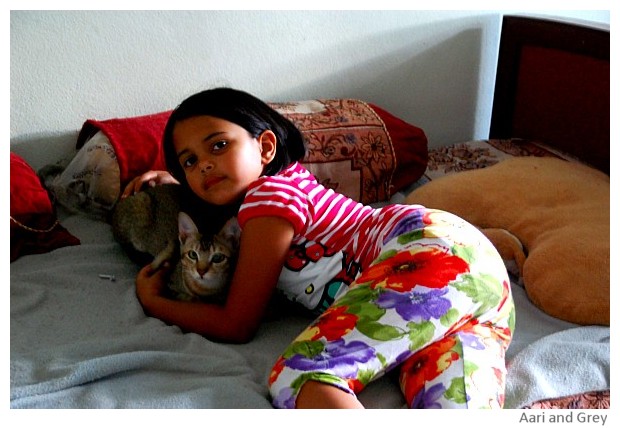 Daisy started going out on her own and stayed out, for long hours, but by the time we started thinking of getting her spayed, it was too late. One night she got into one of the cupboards in our ground floor bedroom and delivered a male and a female kitten. Our grand daughter Aari was delighted. Her soft toys and dolls took second place. Chutki and Bheem (that's what she named them) became her companions. The two used to roam around with dear mom and occasionally brought back mice to devour. That was the only problem we faced with them.
Tragedy struck when Bheem came under a vehicle and got crushed. No one saw how it happened. I saw his inert body covered with a newspaper outside our house. We burried him in the small mud patch in our garden. Aari missed him the most.
There was also Yuki who appeared out of no where and used to sit behind the fridge. She disappeared as suddenly as she had appeared.
We got Chutki spayed well in time but another tragedy was waiting for us. My husband, Meghu and Aari had taken her to the vet a day after her surgery, when Meghu, realising that she was urinating, put her down to prevent herself from getting wet. The moment she put her down, Chutki took off like lightening, jumped over a wall and disappeared. In the growing darkness, they were not able to locate her. The vet's staff also failed though they searched high and low. She was wearing a huge cone shaped E-collar round her neck, so she must have been noticed, we hoped. The next day, Bukie, Meghu and Aari went back to enquire in the neighbourhood but with no luck. That is how we lost Chutki. We still hope that she is safe wherever she is.
Aari is great friends with Daisy also, the occasional scratches not withstanding. Another small baby kitten Aari noticed outside our house was infested with ticks and fleas and her breathing was very shallow. We took her to the vet. He put her on a drip but was doubtful of her survival. The poor thing breathed her last in Bukie's arm later that night. She too, rests in peace in our mud patch.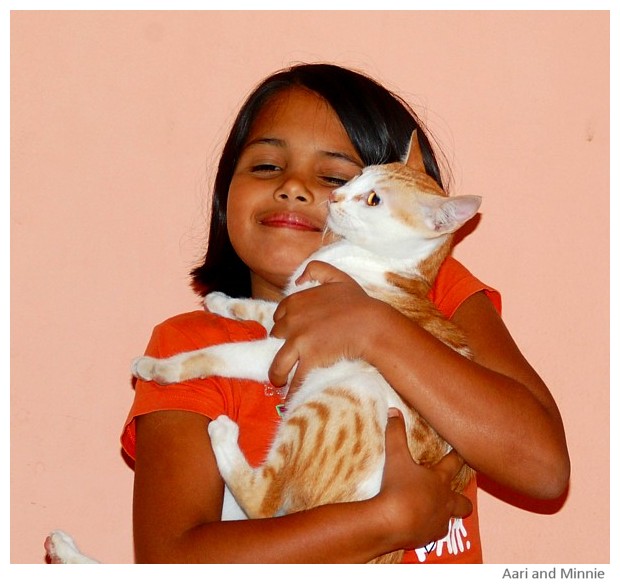 Life carried on with Munchy downstairs and Daisy upstairs. In April this year (2013), on hearing mournful mewing from some where around, Bukie and Aari went in search and found three kittens, a couple of weeks old, scrawny, but moving around, at the back of the vacant house next door. For a couple of days we fed them milk there but doing that several times a day was very tedious so we brought them home.
Meghu's bedroom was lying vacant as she is posted overseas, so with a food bowl, litter tray et al, that's where we lodged them. Aari took it upon herself to mother them and named them Kittoo, Grey and Minnie. She treats them like her own babies and spends a lot of time talking to them. Of course, she does not mind getting scratched.
Soon after we brought the latest additions home, we got them their shots. Just like Daisy had started going out on her own, we assumed that these three will do the same. But no. Whether we lock up Munchy in the bedroom and let them roam around or put them in the bedroom with the windows open, they rarely go out for more than ten minutes.
Coming back to the meaning of Bukul's name assuming such significance, we are convinced that some unknown factor was at play when her Ajju gave her that name. After all, it was she who was instrumental in bringing the helpless Daisy home. Her daughter Aari pointed out the presence of the dying kitten to her. It was she who first heard the piteous mewing of the three siblings who have now been with us for almost eight months. Connects? Doesn't it?
There is a tom cat roaming around in our colony. A few days back it attacked Kittoo near our main door. Bukul rushed out and drove it away. Male cats are known to kill male kittens so we are really scared. Minnie will soon be able to conceive. Must get them all spayed. There isn't room for more additions. Sorry, house full!
End of Part 3
Part 1 - Part 2 - Single page format
***
Articles & stories by Madhu Kamath - Index of writings on Kalpana