Kaalakaandi

A Film Directed by Akshat Varma (2018)

By Sunil Deepak, 2 April 2023

Kaalakaandi has 3 parallel stories and the people from those stories never meet each other or they do fleetingly and yet they affect each other in unexpected and life-changing ways. The film reminded me of the chaos theory (that a butterfly flaps its wings in Japan and causes a hurricane a thousand miles away). After Delhi Belly, the screenplay writer Akshat Verma once again succeeds in creating a simple story out of out of complex and scattered puzzle pieces of events, which somehow all come together in the end.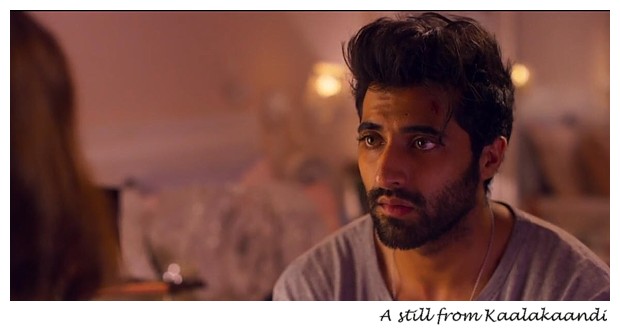 Film's Title
When I first heard about Akshat's film Kaalkaandi, I thought it's title meant Kalakandi or the sweet potatoes and I was intrigued. It made me think of the title of the 2011 film Barfi. I asked some persons who had read the script of the film, about its story but they were unable to tell it to me, usually saying "It is complicated!"
It was much later that I understood that the title refers to the Mumbai-slang for someone doing black or nefarious deeds, because the title was made of two words - Kaala (black) and Kaandi (the doer). I think that this film did not get its due and one of the reasons for that could have been this title - it didn't tell you much about the film's theme.
I think that adding a subtitle such as "Baat Ek Raat Ki" or "Ek Raat ki Baat" or "Mumbai ki Ek Raat" or something similar around this idea would have helped in making people understand the theme of the film.
Story
The film has 3 parallel stories which happen over one night in Mumbai.
The first story has a guy Rileen (Saif Ali Khan) who is told that he has cancer and only a few months to live, on the night his brother Angad (Akshay Oberoi) is getting engaged. He tries drugs, has an encounter with a transgender woman Sheela (Nary Singh) and then with a wedding photographer (Rakhi Talwar). Angad meanwhile receives a sex-call from an old girl-friend Selina (Amanda Rosario) and goes to meet her in a hotel, realises that Selina is using her and feels guilty about being unfaithful to his fiancee Neha (Amyra Dastur).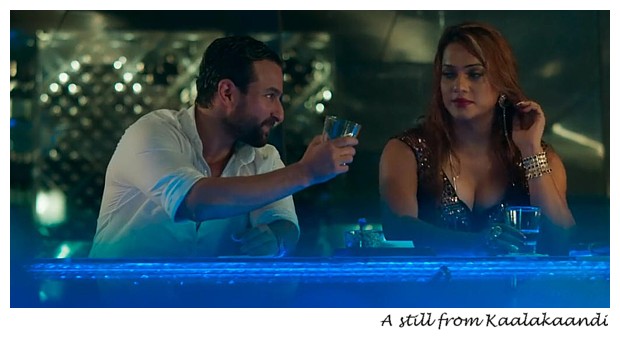 The second story has a live-in couple, Zubin (Kunaal Roykapoor) and Tara (Sobhita Dhulipala). Tara is leaving for US for higher studies and Zubin does not want her to leave. They decide to go to a party for a few hours before Tara leaves for the airport but the party is raided by police. Tara and Zubin manage to leave, but are fighting on the way when Tara hits a speeding motorbike with 2 guys. She is convinced by Zubin to run away and leave the place and go to the airport and take her flight. She has second thoughts about it and decides to go to the police to confess her crime.
The third story has two lackeys, Mafia and Rahmat (Deepak Dobriyal and Vijay Raj) who are going to pick money from a film producer on behalf of their gangster boss (Asif Basra). After getting the money, they become greedy and cook up a plan to rob that money. Mafia kills Rahmat and then shoots himself to prove to the boss that they were robbed. They also witness the killing of Ustad (Neil Bhoopalam), the security-man of the boss.
During the one night, these 3 stories briefly touch and influence each other in unexpected ways.
Comments
It is a little gem of a film, with a quirky and complicated script with different parallel story lines of people and their lives during a night in Mumbai, and how those lives intersect and influence each other. The last scene of the film, with the goon, who thinks that he has made a fool out of everyone else and come out of it safe and rich, sitting near the seaside, is a masterpiece and makes for a very satisfying finish to the story. I was very disappointed that the film didn't get better reviews and audiences.
Anyway, each film comes with its own destiny and sometimes great films are recognised many years after being rejected or insufficiently appreciated. I hope that one day that will happen to Kaalakaandi as well.
Compared to Delhi Belly which was a more happy film, Kaalakaandi is darker and is dominated by sad undertones - Rileen's cancer, goons' gory ends and the separating couple. The film is shot at night, and many scenes are very dark. The three bright spots of the film for me were - the hallucination scenes of Rileen, Rileen's encounter with Sheela and the party girl played by Shehnaz Treasurywala. The 3 of them (Saif Ali Khan, Nary Singh and Shehnaz Trreasurywala) give great performances. I also felt that in the second story (Kunaal Roykapoor and Sobhita Dhulipala) there was a lack of chemistry between the two actors.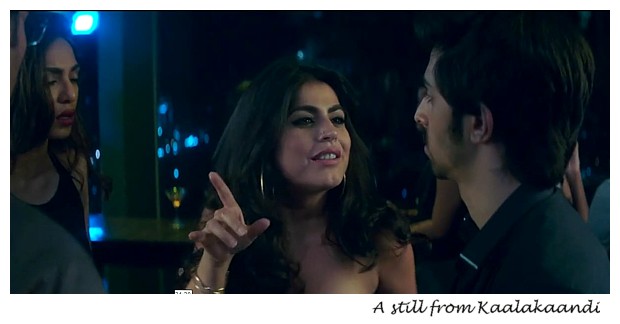 I also felt that the film also had problems with sound design in a few scenes, because the dialogues were not always easy to understand (for examples the dialogues in the party scenes, the guys talking in the car, and Selina's voice on the telephone). Perhaps this was more of a personal problem because of my age and not so good hearing.
Family Comments: Finally some personal and family comments. Film's credits start with thanks to the family and this part included my name too and it deeply touched me (Thanks Akshat)!
From the Hindu Interview - "I Will Always Be A Writer First"
When Kaalakaandi was being released, Akshat had done a very interesting interview with Kennith Rosario, which was published in the newspaper The Hindu on 9 January 2018. Some parts of this interview are given below:
Ques.: In Delhi Belly , the city is almost like a character. How important is Mumbai to Kaalakaand
Akshat: Bombay is an interesting city. Delhi is spread out. It is a place where you can buy your distance from people. In Bombay everyone is packed on top of each other. So this is a place where the very poor and the very rich are constantly running into each other, and the film is about how we affect each other even if someone who we affected doesn't know about it. We could literally cross paths with someone and change their lives and we wouldn't know. I think it is only possible in this city where we are so stuck together. Bombay has a sense of place, a tonality, an energy which is very specific. Bombay in the rains is its own kind of a place. There's something about cities that are by water bodies, that is so distinct. So when these six characters navigate the night, Bombay is what unites them.
Ques.: First Delhi Belly and now Kaalakaandi , what attracts you to dark comedies?
Akshat: There's a certain kind of story you're attracted to while you're watching and writing stuff. For me the thing with dark comedies is that there's always something unexpected coming, in terms of how you unravel human nature. The whole thing of being funny and then very serious all of a sudden. You're very dislocated as to how you should approach it – should I laugh? Should I not laugh? The point is to keep the audience on their feet and keep a step ahead of them. The audience wants to jump ahead, and say, "I knew this would happen", so you always want to sidestep them and give something else. Dark comedy goes where other material might not go.
Ques.: Was it easier to convince producers and actors this time around then?
Akshat: Delhi Belly took 15 years to get made and this took six, so I guess people are half easier to convince now. But not really. Everyone in this town has said no to me, in every department. It's almost like you're having the same conversation again. "There's no audience for this", "No one is going to see that", "You can't do mixed language". And I'm tired of hearing no. But things are changing. The fact that in 2017 some biggest hits have been small films and some big films did not work. But the heavy lifting ultimately has to be done by the story
Ques.: What's the advantage and disadvantage of directing your own script?
Akshat: Advantage is that I could have everything be the way I wanted. The disadvantage is that I could have everything be the way I wanted. Any mistake, and you have no one to blame. Otherwise, you can always say that the director fucked it up. I am happy to take the responsibility and the abuse. You see the script a certain way in your head but regardless the material changes in the making of it. As that happens, I want to be able to mould it, and to control it as much as I can. I'd much rather direct my own material.
Read the full interview (The Hindu Website)
***