Mama's

Boys A Short Film by Akshat Varma

By Sunil Deepak, 29 March 2023

In 2016, Akshat wrote, directed and produced a short film (around 15 min), which is available on YouTube - Mama's Boys starring Aditi Rao Haidari, Neena Gupta, Arshad Warsi, Jim Sarbh, and others, which provided a modern take on the epic Mahabharat.

Mama's Boys focuses on one episode from Mahabharat - Arjun's (Amol Parasher) marriage to Draupadi (Aditi Rao Haidiri) and his mother's (Neena Gupta) command to him "to share it with his brothers". It explores the different reactions of his brothers and Draupadi to the possibility of Polyamory created by this command.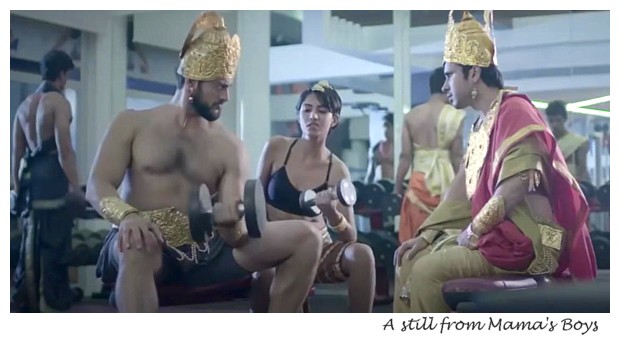 Arjun clearly is not happy with the idea of sharing his woman, but the woman is happy to have a group of men she can choose from. Bhim (Arunoday Singh) has his gym loving girl-friend Hidimba (Teena Singh), while Yudhishter (Akshay Oberoi) has his dice-betting games, but both appreciate Draupadi's curves. Nakul (Vivaan Shah) and Sehdev (Jim Sarbh), the twins, have their own fashion haut couture business and are not interested in women, for them, having Darupadi as their common wife is one way to get their mother off their backs, who is pestering them to get married.
The film briefly establishes the backgrounds of each brother, without ever taking their names, so that you can still identify the Mahabharat characters and Arjun going around to talk to all his brothers, hoping to convince them that they are against sharing of his wife. However, during the dinner, when the time comes to talk about it, the brothers do not support Arjun.
The film humanises the characters of Mahabharat, and makes you think of the psychological impact of this episode on the five brothers and the woman. Predictably, Arjun is not happy at the idea of sharing his bride while the others including Draupadi herself, can see its advantages.
It is a short film and does not touch upon the society and community's reaction to such an arrangement. For example, what did Draupadi's family think of this decision? Often we read and accept our mythologies in an un-critical way and the film helps us to think about it critically. Discussions about Mahabharat rarely touch on polyamory part of the story and this film makes you reflect about it.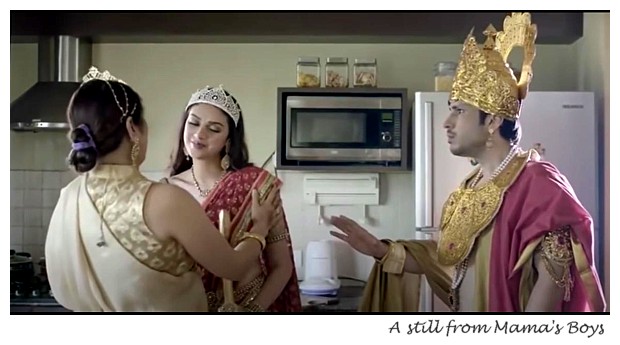 The film shows the characters in a contemporary world with a modern kitchen, a gym, a dining table, but it has them wearing costumes and jewellery from the traditional Mahabharat plays and films, which helps us to identify the situation from Mahabharat. The different characters are identifiable with their specific personality traits as described in the book, except for Yuthishter, who is shown as a compulsive gambler, who likes to drink and smoke, and is opposite to how he is described in the epic (played well by Akshay Oberoi, who has a nice-boy kind of image. He also has light eyes, not befitting the character, and may be for that reason, he wears dark glasses through out the film, including during the dinner).
Another aspect of the film which was not so clear to me was the repeated mention of Tinda (a round green coloured vegetable) as a kind of joke in the film.
While the film succeeds in making one reflect on the implications of polyamory, predictability of the story remains its weak aspect. I think that showing Yuthisther's character differently from the way it is shown in the epic also takes away the surprise element from the film's conclusion, because you expect him to be self-serving.
Credits
Producer: Ashi Dua, Executive Producer: Sahil Mehra
Direction and Screenplay: Akshat Varma
Assistant Directors: Sunil Panday (1°), Moin Shaikh (2°) and Antariksh Shrivastava (3°)
Editor: Aron Paul Orton; Additional Editing: Nitin Baid
Cinematographer: Murzi Pagdiwala; Assistant: Sanjay Yadav
Sound: Abhishekh Singh (location), Maitreya Shah (design)
Production designer: Saibya Rakesh; Costumes: Bhavika Chavda, Sachi Gupta
Casting: Punchimi Ghavri; Hair and Make-up: Sanjeeb Majumdar
Cast: Neena Gupta, Amol Parasher, Aditi Rao Haidiri, Akshay Oberoi, Arunoday Singh, Vivaan Shah, Jim Sarbh, Elisha Chopra, Razak Khan
India Today's Review of Mama's Boys
The review by Devarsi Ghosh (7 Sept. 2016) concludes:
Mama's Boys is, well, yet another addition to the many professionally produced internet comedy videos these days. The film does not break any new ground or crack any new jokes you have not heard before. It's basically Akshat having a lot of fun with the actors, who are, by the way, excellent in their roles, particularly, Aditi Rao Hydari, Arunoday Singh as Bhim (After Main Tera Hero and Mohenjo Daro, he seems to have mastered the dumb gym rat role), and Vivaan Shah and Jim Sarbh as Nakul and Sehdev.
But the star of the film, definitely, is late Razak Khan, who plays Shakuni mama. God, to see him play Shakuni...if there's one reason to devote sixteen minutes of your day to Mama's Boys, this should be it.
Read the full Review on India Today
***