The

Ode A Film by Nilanjan Neil Lahiri (2008)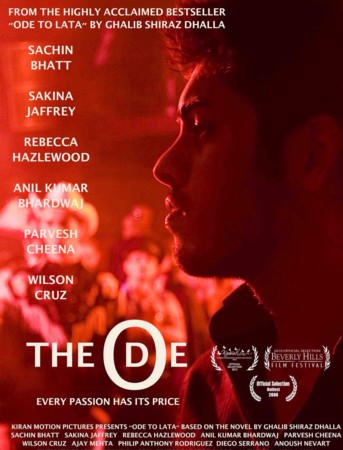 Storyline: Ali (Sachin Bhatt) from a tormented childhood as an east Indian in Kenya, runs away from his overprotective mother Parin (Sakina Jaffery) and the memories of her complicated relationship with his father Shiraz (Anil Kumar), who was killed by his mistress, to LA in USA. In US he falls in an obsessive relationship with a bisexual Richard (Diego Serrano). Ali dreams of love through the Bollywood songs of Lata Mangesher, which express his complicated emotions much better than any other words and needs to deal with his unfaithful lover. The film is about one man's search for love in a world of emotionally void encounters and tangled memories.
Parin comes to USA and tries to help him to come to terms with the past. The film also explores the relationship between Indians and the Bollywood music, especially the songs of Lata Mangeshkar, which seem to express people's feelings in a way nothing else seems to do.
The film was based on actual events and the acclaimed novel by Ghalib Shiraz Dhalla called "Ode to Lata". Its screenplay was written by Akshat Verma. In an interview in 2011, Dhalla had explained his growing up in Kenya as an east India and his fascination with Bollywood films and their songs. He said, "Lata Mangeshkar is a legend, and Ali has grown up listening to her voice. She seems to provide a soundtrack to his life-journey."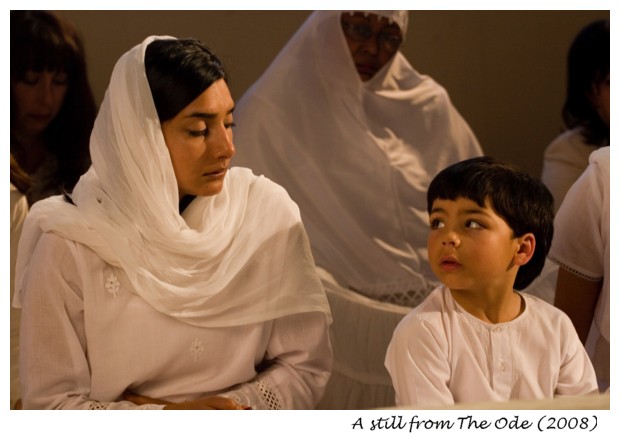 Cast: Wilson Cruz (Adrian), Sachin Bhatt (Ali), Noel Gugliemi (Cholo 2), Alejandra Flores (Cleaning Lady), Sakina Jaffrey (Parin), Lakshmi Manchu (Najma), Rebecca Hazlewood (Young Parin), Parvesh Cheena (Salman), Philip Anthony-Rodriguez (Nelson), Raye Hollitt (Waitress), Ajay Mehta (Mr. Surani), Jeremiah Brent (Blonde Boy), Diego Serrano (Richard), Kavi Raz (Mr.Kanji), Ricky Reidling (Stoner), Yasmine Delawari (Guli), Robin McDonald (Linda), Anil Kumar (Shiraz)
***