Human Rights Night Film Festival 2009

Short Films - Part 3 Sunil Deepak, 4 April 2009

Note: For many years, Bologna (Italy) organised the Human Rights Night (HRN) international film festival, with films about violations of human rights. These were mainly documentary film festivals and included long films and short-films. As a part of the Indian Association of Bologna, during 2007-08, I had been associated with this festival, by organising some cultural activities along the films. In 2009, I was the president of the jury for the short-films in this festival and we had 16 short films to look at. I wrote a diary about those short films, to help me reflect about them, as part of being a part of the jury. This diary has 3 parts.

Part 1 HRN 2009 Films

-

Part 2 HRN 2009 Films
Part 3 of the HRN Short-Films Diary
This year I am president of the jury judging the short films at the Human Rights Night film festival of Bologna. At the same time, I must go to work during the day. So that leaves little time for doing much else. Still, these days I am trying to catch as many films as I can. Here are some final comments about the films I have seen this time.
I bring with me what I love
I bring with me what I love (director Chai Vasarhelyi, USA 2008, 80 min.): I loved this film about the Senegalese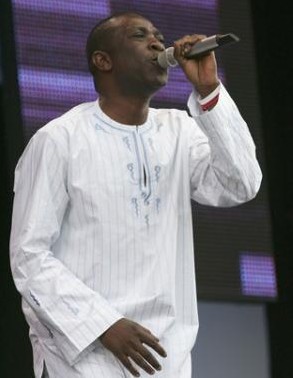 song writer, composer and singer Youssou N'Dour. The film chronicles his search to express his sufi Muslim faith through his music and his encounter with the the more fundamentalist positions in the Muslim world that see music as against Islam and feels that as a pop singer, Youssou N'Dour doesn't have the right to sing about Islam and about Senegalese sufi saint and freedom fighter, Bamba.
94% of the population in Senegal is Muslim but they follow a sufi version of the religion characterized by tolerance and openness. Senegalese women do not cover themselves with black veil.
The film shows Youssou N'Dour's journey from his Griot (traditional storyteller-singers) family background, his early attempts to sing in Gambia, his slow success and international fame and finally in 2000, his desire to express his sufi spiritual feelings through music in collaboration with a group of Egyptian musicians, that culminates in a music album called "Egypt".
While in Senegal, "Egypt" is rejected outright without anyone ready to listen to it, because religious "leaders" have expressed against it, he manages to take it abroad in his music tour. In Ireland, as the Egyptian musicians refuse to play till alcohol is removed from the tables, Youssou N'Dour says with a smile, "For me it doesn't make a difference that there was alcohol, I would have sung all the same."
He tries to take his music to Touba, to the shrine of Senegalese saint Bamba but rumours of his show having nude dancing girls, creates riots and he is forced to withdraw. Still Youssou N'Dour refuses to give up. As his album receives the Grammy award, finally he finds acceptance for his music in Senegal.
The film offers a rare glimpse into Youssou N'Dour the person and has added bonus of listening to his music from different famous albums that are considered as part of the world music history.
Reel Bad Arabs
Reel Bad Arabs (director Sut Jhally, USA 2006, 50 minutes): The film based on a book of the same name by Dr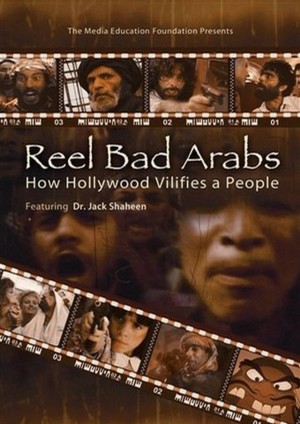 Jack Sheehan takes a systematic look at Hollywood movies since the silent film era in early twentieth century right to our days, to see how American and European cinema have used particular caricatures and stereotypes of Arabs, Muslims and Palestinians over the years. These stereotypes show Arabs as rich, stupid, vicious, cruel, unethical and unsocial starting from the Disney cartoons right down to serious and pulp cinema.
While similar stereotypes were used in the past about Jews and Blacks, these have been overcome over the previous decades while Arab stereotypes continue and have been enlarged to include the ruthless terrorist stereotype. Thus while Arab women were and are mostly shown as black burqa covered submissive kinds, more recently, a ruthless terrorist Arab women figure has been added to this repertoire.
The film ends with a hopeful note citing films like "Syriana" and new young film-makers who are looking at the middle-eastern world with more open eyes and less prejudices.
The film is interesting in terms of its message and the examples it shows from different films. At the same time, it feels a bit monotonous and boring after some time, since all the film is made of Dr Sheehan speaking about the subject, interspersed with movie clips. Having some voice overs, having other persons say something, getting reactions of persons linked with films, especially persons from Middle east, would have made it more alive. Sheehan is good in explaining but there is too much of him, which in the end detracts from the film's message.
Russia 88
Russia 88 (director Pavel Bardin, Russia 2008, 104 minutes): The film is a fictionalised account of a Moscow based Russian extreme right skinhead gang called Russia 88. Film's hero is Sasha (Blade for his gang members, played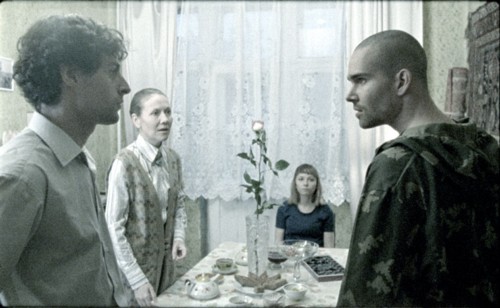 very well by Pyotr Fyodorov) leader of the gang and the film is seen through the eyes of a half Jew boy, Abraham (Mikhail Polyakov), who longs to be accepted as a true-blooded Russian by the group but is not hard and tough enough.
Abraham is shooting a video to explain the gang's philosophy and ideas for putting them on Youtube. Slowly the gang members get used to having him around with his camera and thus become unself-conscious in front of the camera and explain why they feel and act the way they do. Gang has a woman, Marta (Marina Orel), Sasha's girl friend.
The film has used authentic right wing clothes, songs, etc. to present their world, as the gang plans to throw out all emigrants from Moscow, as they participate in army-camps, to aim for a "Russia for Russians" as the foreigners are "hungry and angry, ready to take away their jobs". The main target of their anger is market where most of the shops are by emigrants. There are conservative party persons who believe in similar philosophy and want to use the gang for their political aims, but Sasha believes that they can get a better deal and is not willing to sell his services cheaply.
Tragedy comes in the shape of Robert (Kazbek Kibizov), a Tajiki emigrant with whom Sasha's sister Julia (Vera Strokova) is in love, leading to the death of Kliment (Archibald Archibaldovic), the ideologue of the gang. As Sasha grapples with revenge, the group scatters.
The film is an interesting view into the world of extremist right wing groups and is accompanied by good acting from the main actors. The only aspect that seemed weak to me was the depiction of mindless violence and hate usually surrounding such groups, so in the end, you don't really feel afraid of Sasha and his gang members and you feel sympathy of his dilemma.
Film's official website says that they are not fascists, but I feel that film has been made in a way that creates sympathy and understanding for the cause of right wing conservatives. Their concerns and fear seem understandable, while their victims, specially the emigrants, except for Robert, seem like shadowy figures, not real persons.
Waltz with Bashir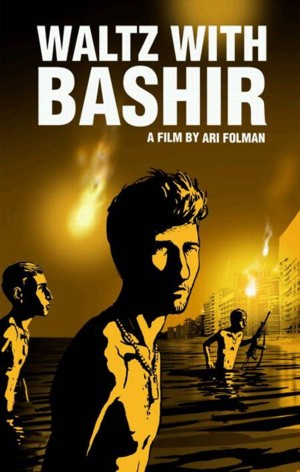 Waltz with Bashir (director Ari Folman, France-Germany-Israel 2008, 87 minutes): The Golden Globe award winning film does not need introduction. The film is about persons who had participated in a war twenty years ago and their nightmares. As layer after layer of memories is peeled away, the horror of the war time memory comes out.
In 1982, Israel had helped Christian militia leader Bashir Gemayel to become president of Lebanon. On his assassination, Israeli soldiers had arranged for angry Lebanese Christian militia men to kill civilians, including women and children, in the Palestinian refugee camps of Sabra and Shatilla near Beirut, in which about 3000 persons were killed.
The film is stunning in its visual imagery and merciless in showing the human cruelty.
You can find more about the film at its official website.
On one hand, it made me rethink about the killings of Sikhs in Delhi after the assassination of Indian prime minister, Indira Gandhi. It also made me think of the reports in the press about the recent Israeli attack on Gaza strip, during which it seems that Israeli soldiers were given the "freedom" to shoot on all "targets", including women, children doctors, sick persons, and destroy hospitals, houses, schools while newer chemical weapons were tested.
Jihad for Love
Jihad for Love (director Parvez Sharma, USA-UK-Germany-France-Australia 2007, 81 minutes): The film was presented at the gender-bender festival of Bologna last year but I had missed it at that time, so I was happy to have this opportunity to see it.
The film explores the conflicts and contradictions when  you try to bring together the issue of homosexuality with that of Islam. By presenting the stories of Muslim men and women from countries like India, Egypt, South Africa, Turkey, Pakistan, Morocco, etc., the film looks at the different facets of the issues people face.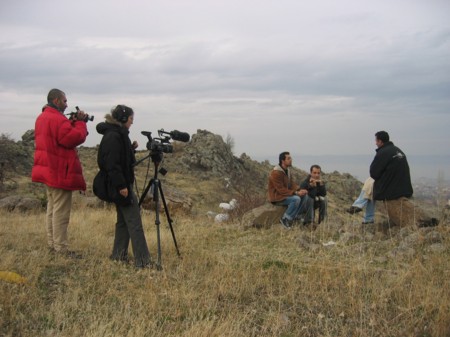 The South African story is about a gay Imam (Muhsen Hendricks), as he talks on radio to explain his situation and struggles to keep his role as Imam and his relationship with his two daughters. A learned Maulana answers his quest with cold logic, "The only answer is death, while there is some disagreement about the way the person can be killed." His daughter half-jokingly says, "Papa, if they kill you by throwing stones, I hope you will die with the first stone and not suffer."
A group of Iranian friends exiled in Turkey wait for the UN High Commission for Refugees to decide if they will get political refugee status, while they miss their homes, friends and families. The Egyptian young man Mazen exiled in France misses his mother too and breaks down as he talks about his rape in the Egyptian prison.
The young man Ahsan from North India also wants to find answers from a learned man of the religion, "What can I do, I was born in Muslim caste, I have to follow my faith", he says. The answer he gets is to read holy Koran, "it will take away all wrong thoughts from your mind". When he persists, he is asked to consult a psychologist and get treatment for his "sickness".
The young women (Maha and Maryam) in Cairo, hold each others' hand. One of them is filled with guilt. "It is wrong to feel like this, it is against our religion", she sobs. The other one reads an Islamic text to her and tries to consol her, "See it says if there is no penetration, it is not a serious sin."
The only happy couple in the film is in Turkey, where the two women (Ferda and Keymet) joke outside the mosque and kiss each other.
I was a little surprised by this continuous struggle of Muslim men and women of trying to find some way to reconcile their sexuality with their holy book, shown in this film. Are there Muslim gays and lesbians, especially young men and women growing up in the west, who don't feel guilty because Koran forbids it and can live in peace with themselves?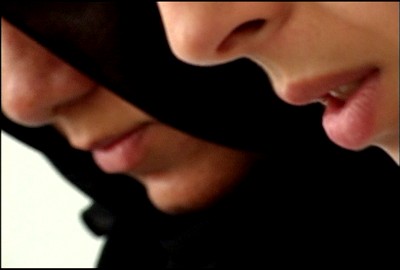 I don't think that any religion in the world really accepts homosexuality. Still persons from different faiths, Hindus, Christians, Jews have raised their voices to speak about their human rights. Among the gay persons I have known, I had never met someone who was struggling so much with his/her own sense of religious guilt and shame in the way shown in the film. Probably some young Catholic gays face something similar?
Hindus have some mythological stories that talk of male gods taking a female form or the figure of Shiva seen as Ardhnarishwar (half man and half woman) that can be constructed as religious sanction for homosexuality. In any case, Hindus are not bound by any one single religious text. Christians are bound by Bible but at least in Europe, the idea of following something because "it is written in Bible", today wouldn't be acceptable to most young persons. So to find young Muslims in this film feeling that way about their holy book surprised me a little.
To me it seems obvious that if our religion does not abide by the notions of human rights, we should fight to change them. Religious books were written centuries ago, how could they understand the issues of today and give answer for every thing?
The film made me reflect on on other issues as well, like how can Muslims change such laws that relate to homosexuality, to women's education, to women's dress codes, etc. if they can not question the views written in their holy book? I feel that Muslims themselves, especially those who are struggling with such issues can propose answers to these dilemmas, though they are going to have a long and tough path in front of them.
Parvez Sharma is a strange name, as it brings together a Muslim name with a Brahmin surname, and I am a little curious to know the story behind it. Perhaps he is related to the well known Hindi writer with a similar sounding name, Nasira Sharma?
In any case, it requires huge courage to make a film like this. About 50% of the persons in the film never show their faces, that makes you understand the risks in raising such uncomfortable questions. Parvez's blog shows how he is still being threatened by persons, who don't share his views. Such persons have even started hate groups on Facebook. I am sure and hope there would many more he would start groups to support the issues he is raising.
***
Back to the Home-Page - Part 1 HRN 2009 Films - Part 2 HRN 2009 Films