Amitabh Bachchan -

In Florence From the press conference of noted actor at River to River Film Festival, December 2012

By Sunil Deepak
"My father was among the first persons in Allahabad to go against the caste system that was prevailing at that time and is still prevalent in India. He married into a sikh family - my mother was a sikh. He often said that he would like his children and grandchildren to marry persons from different parts of our country. I married a Bengali, my brother married a Sindhi, my son married a Tulu from south India and my daughter is married in a Punjabi family."
He clearly liked to talk. He gave long answers to each question of the Italian journalists, explaining everything at great length, sometimes repeating it, to make sure that they understood.
May be it was because he is considerate and knows that in the West, mainstream understanding and knowledge about India are fairly limited. Or may be, he feels that the journalists who come to film related press conferences are not very intelligent, because of his experiences with the press in India, that is forever obsessed with mundane details of the stars' lives? Or, may be it was because he also loves his own baritone voice that can weave magic on the screen?
The attention of mainstream Italian media about India used to be limited to issues like poverty, Sonia Gandhi, spirituality, yoga and Mahatma Gandhi. Other Indian news appeared in Italian news channels, when there were some kind of a disasters or riots. Only over the past decade there have been new additions to these themes, as there are stories of India as an emerging superpower. Increasingly Italian businesses have relocated outside western Europe and Bangalore is one of the symbols for the news stories on "emerging countries are going to take over the world" hype.
We were in one of the meeting rooms of Savoy hotel in Florence, Italy. Selvaggia Velo, the organiser of the River to River film festival had introduced him as "One of the most important icons of Indian cinema, Mr. Amitabh Bachchan."
I was not expecting to see many Italian journalists at the press conference, because Bollywood is still a very niche phenomenon in Italy. To my surprize, the room was almost full with journalists and photographers, representing some of the major Italian newspapers.
Someone had asked him about the future direction of Bollywood films - if they would continue to be formula-driven masala films or there will more of intelligent sensible kind of cinema?
Amitabh started his answer with the often repeated explanation about poor persons' need for a fantasy world to get away from the squallor of their real lives. "Elementary my dear Watson, it is entertainment, entertainment, entertainment", as Sherlock Holmes would have said.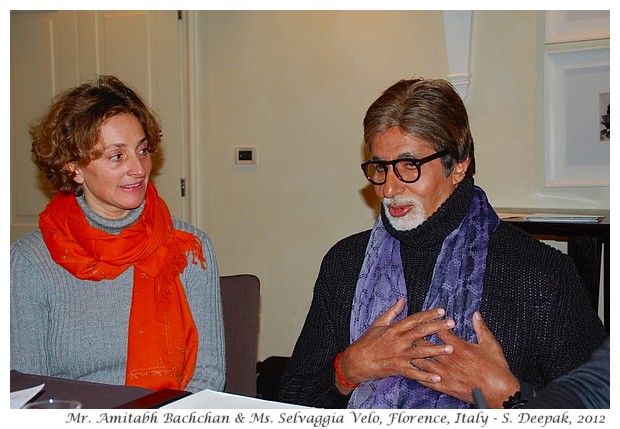 "In the west there was recognition for the artistic kind of Indian films, while western audience were cynical and even critical about other kind of Indian films because they felt that it was too fantasized and unreal. We have not changed so much, we continue to make both kinds of films, but in the west today perceptions have changed and there is greater recognition of our popular cinema."
"May be today the two kinds of cinemas can be looked at together. After the opening of Indian economy in early 1990s, there is more affluence and a bigger middle class in India. This includes about 350 million persons, who are more educated and can appreciate more intelligent cinema. If they don't like something, they can be very critical", he had added.
Another related question was about the reasons of popularity of Indian cinema in many different parts of the world including in north Africa, middle east and in countries of former Soviet Union.
I was never a big fan of Amitabh Bachchan, in the sense that I never went to see a film just because he was in it. I had not seen his first film, "Saat Hindustani" (till many years later, when I had seen it on Indian TV). But I remember his small role in Sunil Dutt's "Reshma aur Shera", where he was a gangly awkward young man, very un-hero like deaf and mute guy, who kills newly married Rakhi's husband and sparks off the family feud. It had me feeling a little embarassed as well as a little proud, because I could identify with him. It was the time when I was acutely aware of my thin body, long neck and awkward limbs.
However, I had liked Amitabh in Hrishikesh Mukherjee films like "Anand", where he played serious middle class characters. But I was more of a Rajesh Khanna fan at that time.
The moment I first saw him when he entered the press-conference room at Savoy, my first thought was about "Anand". "Wow, Babu moshai!", I had said to myself. Immediately after, my second thought was that he was so very thin, almost gaunt and his face showed that he was no stranger to pain and suffering.
Ever since I had known that he was coming to Florence, I had started worrying about the questions I could pose to him. After a lot of thought I had decided that I would have focused about his days in Allahabad and about the literary world of his father. I remembered his joint interviews with Jaya Bhaduri that were published in the Hindi magazine Dharamyug in the 1970s. Those interviews were done by Pushpa Bharati. I wanted to know about those parts of his life.
Amitabh Bachchan is what is called a character actor in Hindi cinema, that means actors who are no longer the main heroes of a film. These actors may play the elder brother or the father or the uncle or friend or the villain. Most of the heroes, when their films stop being successful at the box-office, disappear from cinema screens and public memory. Increasingly after the proliferation of private TV channels since the 1990s, they may find work on the TV, hosting shows or acting in TV serials. However a few of them become respected character actors, some times getting important roles in films or even films that revolve around them.
Amitabh had also gone through his days of oblivion after a number of commercially unsuccessful films in late 1980s and then made his come back through a very popular TV show in late 1990s, and then the popularity of his TV show brought him back to the films as a respected character artist.
There have been a number of character actors who had been equally respected in Hindi cinema including Ashok Kumar, Balraj Sahni, Motilal and Pran. Films were made around them. However, Amitabh Bachchan today is considered a bigger icon of Bollywood, probably because of its greater reach in the world due to NRIs and probably because of the greater economic might of Bollywood.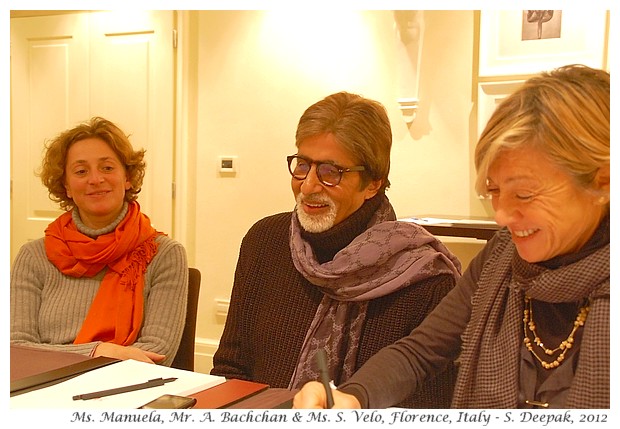 Sitting in Amitabh's press conference, I had suddenly remembered a meeting with Ashok Kumar in Mohan studios in Bombay in 1975. Ashok Kumar was a hero in 1930s-1950s, and during 1960s had shifted to the character roles. My father had been a fan of the "hero Ashok Kumar", for me he was an "old man". At that time, I had identified with Amitabh. To see him in Florence and to think of him as "old", was a reminder of my own white hairs.
I had often wondered about his film on Dharamveer Bharati's novel, "Gunahon ka Devtaa". I remembered seeing some stills of this film that was titled, "Ek tha Chander, ek thi Sudha". The novel was based in Civil Lines in Allahabad where Amitabh was born and had grown up. I had loved that book and I had dreamed of watching that film. Due to some problems, that film was never completed or released. After almost 40 years, I still remember it and I would have loved to talk to him about it.
There were other reasons for my self-identification with Amitabh. My father's family also came from Allahabad. My parents, also a UP Kayasth and a punjabi like his parents, had known his father. I would like to think that we had also shared the world of Hindi literature in our growing up years.
In those Allahabad days, what was the relationship of his father with other literary figures like Mahadevi, Nirala and Dinakar? How did he feel when he walked near that patch of grass where Chandrashekhar Azad was shot down? Did he used to go to Anand Bhawan to play with young Rajiv Gandhi? What he did feel about Nehru? Can he see the Punjabi part from his mother's side in his personality? How is that Punjabi side different from the UP side?
There were so many questions I would have liked to ask him, but in the press conference there was no time for them.
"My father was a poet, an icon of literature in India", Amitabh had said proudly, talking about his father Harivansh Rai Bachchan many times during the press conference in Florence, "When he was old, every evening he watched one of my films. One day I asked him, what is it in these films that find so attractive? He said that those films provide poetic justice in three hours, something that does not happen in real life."
"I would like to be treated as a very normal human being, someone who can make errors and mistakes like everyone else. I can't be perfect all the time, but the moment you become a celebrity, everyone expects you to be perfect. If there is any kind of political or moral situation, people want to know my opinion about it, though I may not be qualified to talk about it. And the moment you respond, you are taking sides and there will always be a reaction to everything you do. Why does every body presume that just because you are a celebrity, you are also intelligent to answer all kinds of questions?" Amitabh had said during the press conference.
He was wearing a turtle neck black sweater with a scarf around his neck, and his hair combed and put in place carefully. His hair were clearly dyed but not in the usual jet black dye chosen commonly by men in India. Rather they had shades of dark and light maroon with some grey in it.
Later that evening, when he had entered Odeon cinema, venue of the inauguration of the film festival, crowds had gone berserk, surrounding him, touching him, clapping and whistling for a long time. A group of young Indians and Italians had secretly prepared a flashmob that had burst into a medley of songs and dances inspired from the famous Bachchan films.
Like all his roles in the films, that evening he had played the role of the superstar from India, taking the bows on the stage in a shiney pearly coat.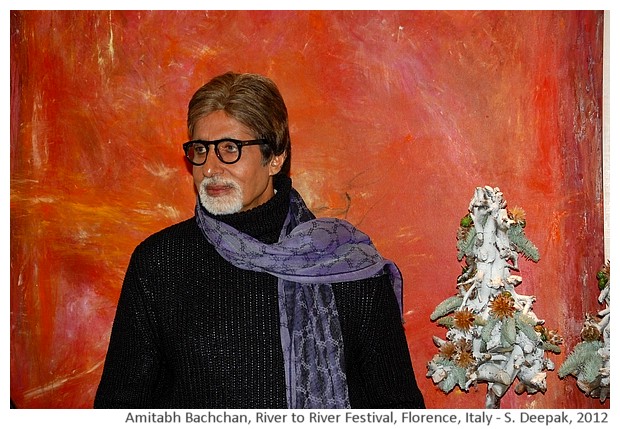 As fans and as interviewers, how do we relate to persons we idealize? Is our idealizing, a kind of self-identification?
During the press conference, everything Amitabh said had to be translated into Italian. Thus there were pauses when Manuela, the translator spoke and Amitabh sat there listening. During those gaps, I was looking at his face to see if I could sense his thoughts. Most of the time, he seemed attentive towards the translator and the persons sitting in the room. Only occasionally I thought that there were fleeting glimpses of a brooding man, his eyes serious, as he observed everything around.
When I was young, I used to daydream about being a famous film star. Perhaps most young people had those kinds of daydreams. Looking at Amitabh that day at the press conference, suddenly I felt happy that I was not Amitabh Bachchan.
After the press conference, I wanted to go out in the square, walk around, eat an ice-cream. When you are Amitabh Bachchan you can't do so many things that I take for granted. People asking questions in press conferences is bad enough. I would rather sit on the side asking questions rather than answering questions! People pointing at me and wishing to talk to me all the time, would be a real nightmare. Being famous is a difficult burden to carry.
PS: In Florence someone had asked me if I read Mr. Bachchan's blog and I had to shamefully admit that I had never looked at it. I did look at it after the press conference. He is very prolific and regular at his blog and probably I can find all the answers to my questions on his blog!
*****