Margaret Louise

Skinner An American poet

By Sunil Deepak, June 2014

Margaret Louise Skinner was an American poet and a friend of my father. For a brief period in my childhood, probably in 1960-61, I had met her in Hyderabad (India). I remembered her as Margo. Almost fifty years later, a chance encounter with her old pictures, made me search for information about her. Internet helped in this search. You read about this search in my article "The old pictures".

In 2013, I received a communication from Charlene Ungstad from USA. Charlene was a friend of Margo and her husband Fritz Reuter Leiber (a well known science fiction writer) and had read about Margo in my article "The old pictures". The picture below shows Margo with Fritz in 1984. Both had died in 1992.

Charlene told me that after her return from India around 1962, Margo had worked as a cinema critic and written for Bay Guardian, Hollywood Reporter, Sacramento Bee, S.F. Chronicle, Toronto Star, Associated Press, Reuter, etc.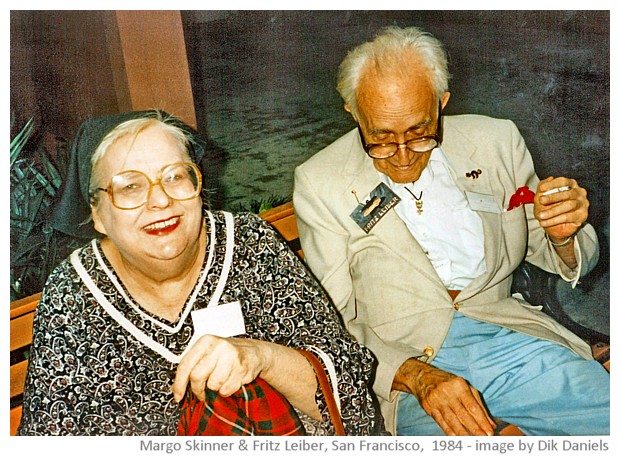 Few months later I discovered some of her letters written to my father that give some information about her. For example, in a letter dated 26 February 1963 written from Powel Hotel, 17 Powel Street, California, she had written:
"What news? How are health and spirits? My own are better than in some time. I am beginning to feel very alive again. Partly it is the spring breeze - that faint, fresh one that makes all the senses have visions. Partly it is the fact that I have gotten out of that incredibly decadent situation in which I was working, which would make something for a casebook in abnormal psychology. Still I suppose, it is all to the good; material for writing someday. But now I am with two very nice, good guys. The three of us sit and work in our little corners all day and around 10.30 AM and 3.30 PM by mutual consent, we turn around and have discussions of films, sports, philosophy and what all. They are dears and I am happy to be around them. The work is dull, but then much work is.
Also I am taking a short story writing course, which I find fascinating. I have had only one bit to hand in - the beginning of a story.You know I only wrote one before, the one that was in Mankind. But this second, only the beginning, they were wild about. I felt very flattered, also some sense that I was selling them a bill of goods. And then there is the question of how to finish it, but it seems to be growing under my hands. The teacher is very sensitive, and a writer, a selling writer himself. He puts great stress on "building" a story and outlining where you are going in advance. Since I want to write a novel - and indeed I have material, by God - this is probably all to the good, but all the same, I don't think you build'em. I think they grow, like plants or trees. Which also have form. But the people in the class are very interesting and creative. Some of the stuff that has been turned in seems very professional to me, and the teacher says, this is the best group he has ever had, with a number of people in it who have very real talent. I hope he includes me. I am scared of him - and this is a schoolgirl reaction too. Well still it is true. You would enjoy these folks."
Charlene was kind enough to send me a copy of Margo's book of poetry "As Green as Emeraude", that she had dedicated to my father, Om Prakash Deepak. Two poems from this book are presented here.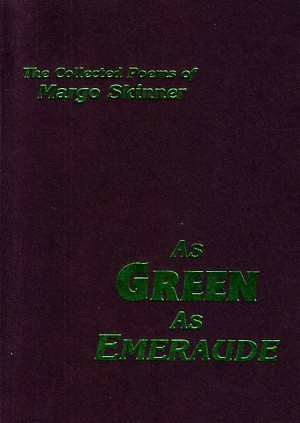 Love
By the great golden bell of the Shwedagon,
By the emerald current of the distant river,
By jasmine night
By burning sunlight
And the sacred face of the living Buddha
I swear to love you forever,
Meeting when the turning wheel turns
And when it ceases;
Parting never.
At Mahabalypuram
I
Six temples sleep under the sea.
The stone of Vishnu's house seeps into sand,
As the winds of the East and the winds of the West
Whip against seventh Holy Place
Within, the God sleeps with smiling face.
II
The waves are lapping at Vishn's feet
As he sleeps in his stone house on the shore,
Tranquility in his splendid face
And the strong god's body stone heavy with sleep
Will you rise, Vishnu, when the tempest roars,
Look out of your windows to the East and the West,
Then stride the waves into calmness,
Lull the furious sea into laughing peace
And preserve us now, in the time of the thunder?
***