A Teenage Love Story

(With a difference) Review of Brazilian film "I don't want to go back alone, by Dr Sunil Deepak"

Brazilian director Daniel Ribeiro's film "Eu Não Quero Voltar Sozinho" (I don't want to go back alone) is a Karan Johar's "Kuch kuch hota hai" kind of film (with similar storyline) but with a difference - it is a gay love story. It is a cloyingly sweet short film, that left me a little irritated but may be that only means that I am no longer a teenager!
Introduction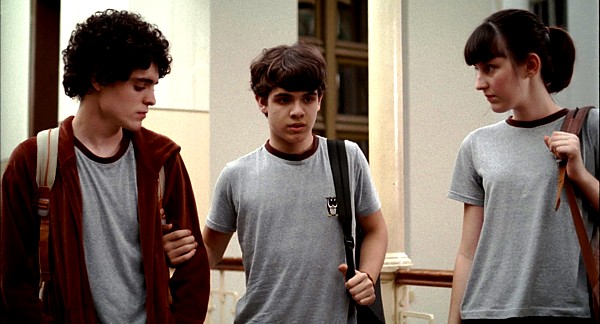 The teenage love stories like Karan Johar's early films like "Kuch kuch hota hai" and "Dilwale dulhaniya le jayenge" (there were no real teenagers there, but that is only nitpicking) and hundreds of such romantic films and books all over the world tell stories of beautiful people, who meet, fall in love, face some heartbreaks and then in the end all the misunderstandings are resolved, the guy and his lady love kiss against the sunset and live happily ever after.
However, the teenage romantic worlds are make-believe worlds with make-believe people - everybody is beautiful and perfect with designer clothes - the billionaire handsome guy and lovely virgin princess. If you are fat, short, ugly or worse, if you are disabled or gay, you have no place in this make-believe world, not even as hero's sidekick or heroine's best friend.
Gay and lesbians face a lot of discrimination and barriers, and it is not easy for young gay or lesbian persons to express their sexuality. If they also have a disability then expression of their sexuality becomes even more difficult.
Ribeiro's film is different because his hero is disabled and he is also gay.
The film
Leonardo (Ghilherme Lobo) is a high school student. He is blind. His best friend is Giovana (Tess Amorim), who secretly loves him but for him she is only a friend. She accompanies him to his home every afternoon when the school finishes. Then arrives a new boy in their class - Gabriel (Fabio Audi).
Soon, Gabriel becomes friends with Giovana and Leonardo. He also walks with them after school. Leonardo feels attracted towards Gabriel but does not know how to tell it to him and decides to talk about it to Giovana.
Comments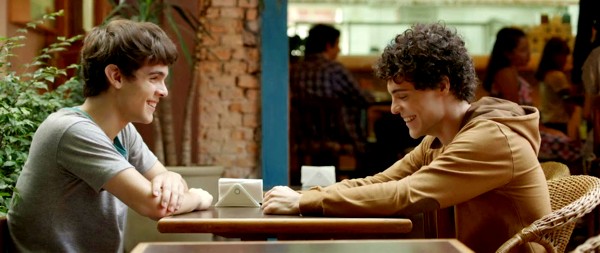 It is a nice film to watch, simple and uncomplicated. However, there were different reasons why it irritated me a little bit:
(1) The film is based in Brazil but it is the world of rich and white Brazil. The whole class and the teacher are all white and rich looking. I know that Brazil has a lot of multi-colour families, which means that in the same families, some persons may be white, some dark and some in-between. Still, I would have liked the film more if at least some persons in the film were also not-whites.
(2) Everyone in the film is good-looking, perfect and a little artificial. Even Leonardo, who is blind, looks perfect with beautiful eyes.
(3) Everyone is accepting towards Leonardo's disability, no one makes comments about him. Even his being a gay is not an issue. The only dilemmas in the film are the romantic dilemmas - Giovana's heart break and the difficulty of Leonardo to express his feelings. Thus, the film is in an idyllic world.
However, I do recognise that as someone who is no longer young, and who focuses (too much??) on the problems and barriers faced by disabled persons and by non-heterosexual persons, probably I am looking at this film through a distorted lens. The film is a make-believe world to present alternate dreams to people who have a disability and are gay - like all teenagers they also have a need for uncomplicated romantic dreams and the film answers that need.
It is a short film (about 17 minutes) and though it is in Portuguese, you can watch it on Youtube with English subtitles. If you like sweet and romantic films with good-looking actors, watch it and tell me what did you think about it!
After I finished watching it, I was re-imagining "Kuch kuch hota hai" - suppose, Rahul (Shahrukh Khan) was secretly in love with Anjali (Kajol) but felt shy of expressing himself, and then Tina (Rani Mukherjee) came to the school and one day Anjali confessed to Rahul that she was in love with Tina ...
***
Back to the Home-Page - Index of LGBTQ-Related Films