Becoming A Woman

- A Journey Review of the Dutch film "I am a girl" (2011) By Dr Sunil Deepak, February 2014

The 2011 film by the Dutch director Susan Koenen, "I am a girl" (original title: Ik ben een meisje) is about a 13 year old girl, Joppe, her growing up and her crush on a boy. Joppe was born a boy and the film touches on her journey to become a woman.
Story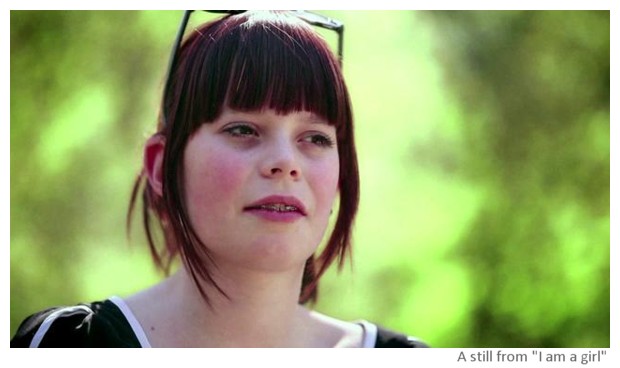 Joppe has braces, long hair and a beautiful smile. Like her friends, she also dreams of love. She has a crush on Brian, but he does not answer her gestures for going out with her. Then one day Joppe hears from her friends that Brian is going out with another girl and she is sad. "I won't let it keep me down, life will go on", she tells her friends.
At the background of this simple tale of a teenage crush and growing up pains, is the story of Joppe's transformation from a boy to a girl, who wants to become a woman.
Comments
It is a simple film told in a simple way. At one level Joppe's journey of transformation from a boy to a girl seems almost painless. As a very young child she decided that she preferred to be a girl. Initially her family did not agree, but then they accepted her decision and in 5th standard (final year of primary school) she started this journey of transformation.
In the school it seems that Joppe has no problems from her classmates or from other young people. She spends her time with her friends. And when she goes to the middle school, she explains to her classmates about herself, so that everyone knows about what she is going through.
Joppe starts receiving injectable medicines that can stop her body from producing the male hormone, so that her body will not have the typical changes that occur in the boys during puberty - such as deepening of voice, growth of facial and body hair and growth of genitals.
Joppe knows what will be the path of her transformation. When Joppe will be sixteen years old, she can start receiving female hormones so that her body can start having the changes that girls get at puberty - such as more fat on the thighs and buttocks, and development of breasts. Later she will go through surgery so that her genitals will take the female form.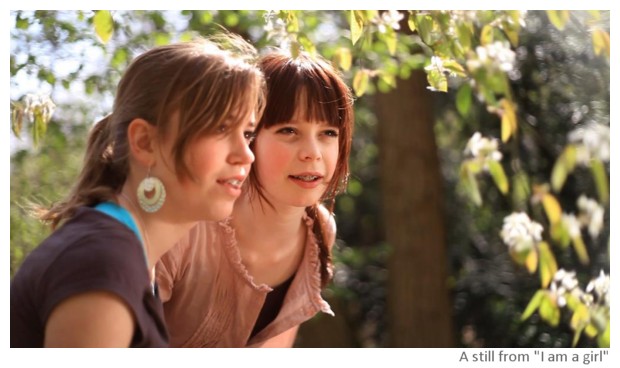 Joppe's journey of transformation is not completely painless though as her experience with Brian shows. Young people in her community may not be cruel or discriminatory to her, but at the same time, she is seen as different and at the beginning of any new relationship with a boy or a man, she will need to face the dilemma of "Can I tell him that I was born a boy?" and then let the boy/man decide if he wishes to continue that relationship.
She is aware that though she can wear a bikini and go to the swimming pool with her friends, she is also a little anxious if others can make out the difference. In the bathroom of the swimming pool, she sees other girls with their growing breasts and the feminine curves, and worries about her own flat chest and curveless body.
Most of all, Joppe is aware that "becoming a woman" is not a journey with an end point, but rather, it is a life long journey where she has to keep on becoming and transforming. And on this journey, she will have to face many other challenges.
About one day making a family with a man, Joppe says, "If he would wish for a family with children, perhaps he can have a child with a surrogate mother. It will be only his biological child, but I won't mind it so much."
***
You can watch "I am a girl" with English subtitles on Aeon Film website - it is free of charge.
Credits
Ik ben een meisje
Director: Susan Koenen
Producer: Albert Klein Haneveld
Editor: Denise Janzée, Susan Koenen
Cinematographer: Reinout Steenhuizen
Sound: Bouwe Mulder
Running Time: 15 minutes
Language: Dutch with English subtitles
Website: www.ikbeneenmeisje.nl
Comments
Note April 2023: When I had first seen this film in 2014, I did not have clear opinion regarding the use of puberty-blockers and initiating trasition process among minors. I have talked to many transgender women who regret that they were unable to access puberty-blockers in adolescence and thus the process for their transitioning has been so much more difficult and challenging. At the same time, I have talked to persons who went through transitioning and then regreted it, faced depression for the choices they had made and wished to go back to their original gender. I believe that using puberty-blocking hormones is not safe and transitioning should only be supported when individuals are deemed mature enough to take such a decision. Generally, I do not believe that adolescents have the maturity to make such decisions.
***
Back to the Home-Page - Index of LGBTQ-Related Films