No One Is Perfect

Nessuno E' Perfetto Review 6th Film Festival on Transgender themes, Bologna, Italy May 2013

By Sunil Deepak, May 2013

The 6th International Trans Film Festival of Bologna, called "Divergenti 2013" (Divergent or going in different directions) started on
2 May 2013. The festival is organized by MIT - Movimento Identità Transessuale (Transexual Identity Movement) of Bologna (Italy) and many other partner organisations such as "Some prefer cake" and "Cassero - Bologna Gay Lesbian centre". This year the festival is focusing on the way media looks at and talks about trans-sexual persons and related issues.
This year, I am planning to attend at least part of the festival, including a participation in a workshop on "Trans* and Media".
Though I did participate in the past in some GLBTI events and once I had interviewed Alessandra Bernaroli, who is fighting for her right to marriage, I have to confess my substantial ignorance about trans-sexual issues. Thus, I am hoping to learn more about these issues from this festival.
MIT was initiated in 1979 with the aim of fighting for "right to sex change" and is the first association of trans-sexual persons in Italy. The law on sex change (Law 164) was approved by Italian parliament on 14 April 1982.
Porpora Marcasciano, president of MIT and an activist for human rights, sociologist, researcher and writer, opened the festival. In her speech, she pointed out the widespread stigma and prejudice surrounding trans-sexual. At the same time, she felt that the stories of trans-sexual are usually told by others, non-trans-sexual, so that one of the aims of the festival is to give voice to trans-sexual persons themselves.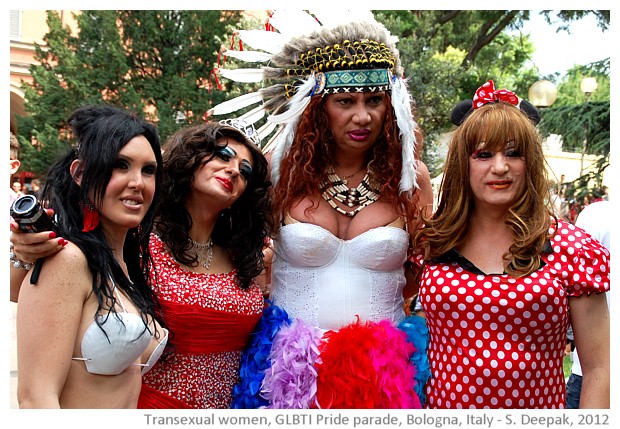 An Italian documentary film, "Nessuno è Perfetto" was the opening film of the festival.
Nessuno è Perfetto
(No one is perfect, 2013, Italy, 82 minutes)
The film is produced by Ar.Pa. films, is directed by Fabiomassimo Lozzi and its screenplay is by Fabiomassimo Lozzi & Antonio Veneziani.
The film focuses on the worlds of Male-to-Female (MtF) transexuals, through interviews with a group of trans-sexual women who were born as male. The different stories are mixed together and do not follow a chronological order, thus the film feels like a chorus of different voices around the central theme of trans-sexual women.
The different voices about lived experiences of persons alternate with the poetry of Antonio Veneziani, an Italian poet, who writes about love, relationships, pain, abandonment, identity, gender ...
I think that among the trans-sexual persons, the men who desire or feel to be a woman, are better known to general public, since there have been some important films around them. For me, the most important work in this sense is the Spanish film "All about my mother" (Pedro Almodovar, 1999), in which I had loved Agrado as the warm hearted transexual prostitute.
Another important film about MtF trans-sexual persons is "Trans America" (Duncan Tucker, 2005). This film touched on the complexity and challenges of the transition process including issues regarding surgical operations in biological males to become a woman and the complicated relationship of a trans-sexual woman with her teenage son, she had fathered in her male days.
Thus, Lozzi's film was not my first experience about the world of trans-sexual women. However, still the film surprised me because it gave a glimpse of the absolute diversity of experiences and meanings of being a trans-sexual woman. It made me realize that to be a "trans-sexual woman" is not one stereotype experience, but rather each individual is different. Flamboyant and exotically dressed trans-women, popularly known as drag-queens, catch public attention and make us think that all trans-women are like that. Lozzi's film makes you understand that this is far from true, by presenting a palette of very different persons, none of whom fits in the "flamboyant and exotic drag-queen" group.
Marcello seems more male than female. He dresses as a male and wishes to be known by a male name. He shares his the pain of his first traumatic sex experience. He has not taken female hormones like estrogen, has no female-breasts and not been operated. He is a woman, emotionally and psychologically rather than physically.
Daniela has been a wife for fifteen years. She talks about her operation in London because that operation gave "more depth" to her new genitals. The operation allowed her to become a woman legally and have a female name. Her mother in law did not even realize that she is trans-sexual and keeps on hoping for a grandchild. Only when Daniela was close to her separation from her husband, she talked to her mother-in-law about her trans-sexuality. Her mother-in-law's reaction, "..but my son's body is normal, I know it because I bathed him as a child" gives a glimpse into common misconceptions and lack of understanding about trans-sexuality in general public.
Georgina talks about her controlling husband, and her fight to be her own person and to make her own choices. She also thinks that a "normal" family is made of a man, a woman and their children and thus does not think that couples with a trans-sexual person have a right to marry.
Leila, an artist from Brazil, talks about her early exclusion because "she was not Italian", and also of the strong influence of church.
Andrea is a fish-seller and also a handicrafts person, talks of her initially difficulties and the social stigma. She also talks of her intense relationship for four years with a person who had lot of problems and how their relationship changed from passion to "maternal care". "It is heterosexual men, persons who like women, who get attracted to trans-women", Andrea says smiling, "but so many of them want me my dick, they want me to be the active partner."
Another story is that of Venecio, a pioneering trans-woman who was some kind of famous artist. Her part of story in the film is shown through a visit to a museum dedicated to her costumes.
Comments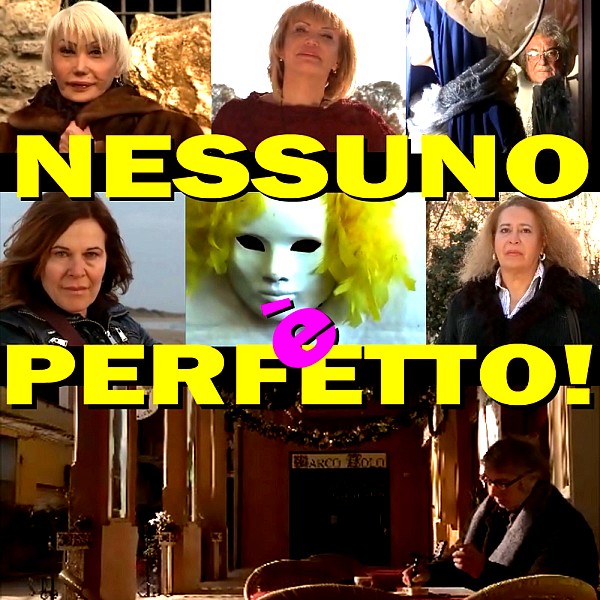 The persons in the film talk of their initial difficulties, their first sex experiences, their love lives, their long relationships, their hormone therapies and operations, their struggles to be "normal" in a society that does not accept them easily.
On the whole, the film is sad and melancholic, focusing on difficulties, loneliness, challenges of finding love and companionship, of being used just for sex. Veneziani's poems that connect different parts of the stories, are also melancholic. The only happy parts of the film are where Andrea comes on screen.
I could understand from the film that the transition, the process of changing from a man to a woman, is an ever-going process, it does not conclude just because a person has been operated and has female genitals or takes hormones. Rather transition is a lifelong process of a new gender identity that must be forged constantly, fighting or dealing with external and internalized gender roles, stereotypes and expectations.
The film focuses on persons who have lived through tougher and more closed times of 1970s and 1980s when the issues of trans-sexuality were just coming out and the battles for their human rights were just beginning. They all feel that today things are easier and their is much more visibility, so it is easier for persons to transition and make their choices. I feel that the film could have gained by having one or two more contemporary stories of younger persons, who have different kind of experiences.
The film has many shots of Veneziani getting out of and getting back into a house, where he has to squeeze through a half-open door. I am not sure if it has some symbolic meaning (I didn't get the meaning) and why it is repeated so often. The parts about Veneziani, like the shots showing he is writing notes, seem like intellectual/literary posturing.
Globally I liked this film and I think it succeeds in giving you an idea of diversity of trans-sexual women and their lives and experiences, especially in the above-fifty age group.
***
Back to the Home-Page - Index of LGBTQ-Related Films