Fire in the Blood

In a Cynical WorldReview of the documentary film by Dylan Mohan Gray

Review by Sunil Deepak (20 December 2013)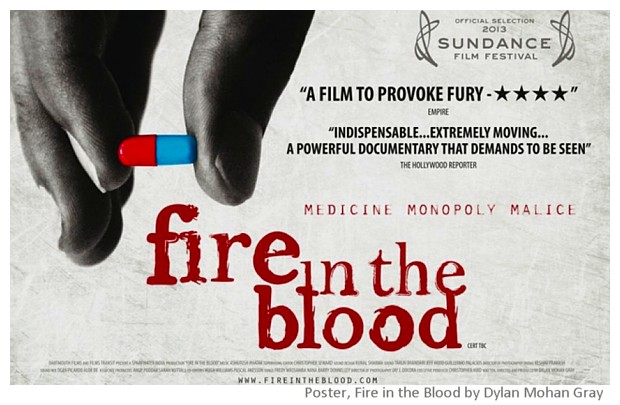 Dylan Mohan Gray's film "Fire in the blood" moves you and makes you despair for the future of world. It tells the story of more than 10 million people who died due to the uncontrolled greed of the Big Pharma. It forces you to think of those other countless millions, who continue to die around the world because of the way the Big Pharma operates. Yet, "Fire in the blood" is a film filled with hope - it inspires you to stand up for your rights and fight for a better world.
"Fire in the blood" was a part of the Mondovisioni, the international documentary film festival, that was held at Kinodromo, Via Pietralata of Bologna (Italy) between January and April 2014. It was shown on Tuesday 18 February 2014. You can check the reviews of other films in programme at Mondovisioni festival by clicking here.
Introduction
"Fire in the blood" is the story of persons with AIDS and their fight for medicines. This story illustrates how Big Pharma (ab)used international laws and manipulated governments in ruthless endeavour to increase their profits. This is the same way that big tobacco companies, armaments industry, big oil companies, international mining and petroleum companies, big food and seeds companies, etc. work. Ownership of most of these companies are interlinked.
Any discussions or questions about the modus operandi of these big multi-national corporations are immediately attacked as "communists", "anti-capitalists", "anarchists" and "radicals". Persons who raise these issues are called "against development" and "they want to maintain poverty". In reality the corporations of the Big Pharma are "monopolies disguised as free-market campaigners", they refuse any kind of middle ground and are as extreme as any communist regime they criticise.
Vandana Shiva in a recent article in The Guardian had written about this convoluted idea of "development" characterized by the Big Pharma and other corporations as: "A living forest does not contribute to growth, but when trees are cut down and sold as timber, we have growth. Healthy societies and communities do not contribute to growth, but disease creates growth through, for example, the sale of patented medicine. ..Water available as a commons shared freely and protected by all provides for all. However, it does not create growth. But when Coca-Cola sets up a plant, mines the water and fills plastic bottles with it, the economy grows. But this growth is based on creating poverty – both for nature and local communities."
"Big Pharma" towards which "Fire in the blood" points an accusing finger, include companies that sell brand name "blockbuster" medicines such as Pfizer, Roche, Glaxo Smith Kline, Novartis, Merck and Bayer. "The top ten big pharma companies in "Fortune 500" list earn more than the remaining 490 companies combined together, but their greed for money is endless", says Fire in the Blood, "only 5 cents per dollar of what they earn goes back to the research of new medicines."
The film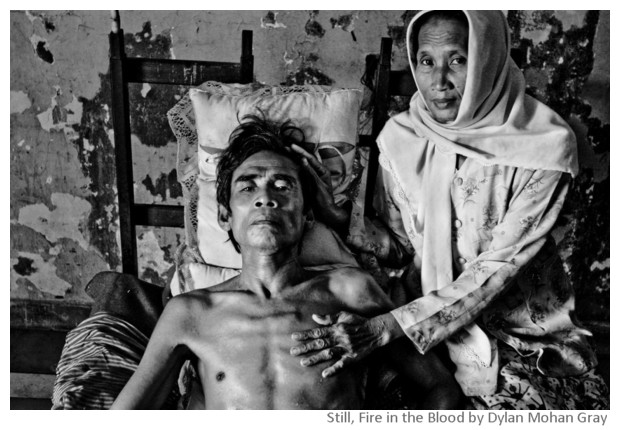 When the AIDS epidemic broke out in the 1980s, soon Africa became the continent where it affected the most persons. In the initial years, when there were no medicines to control AIDS, millions of persons died all over the world. The first successful treatment of AIDS came out in 1996 but it was very costly - around 15,000 dollars/person/per year - a cost that was not accessible to millions of AIDS patients in the developing world. The new AIDS treatment made of a mixture of drugs, dramatically changed the lives of people in the developed countries, giving them back near normal lives, but only a tiny minority of persons in the developing world had the resources to get these medicines.
Countries like Thailand and Brazil started producing these medicines but these could not be imported to Africa because of patent laws and pressure of countries like USA and European Union. In 2000, Dr Hamied, CEO of an Indian drug company called CIPLA, told a high level meeting of U.N., governments and big Pharma that he can supply those medicines for 350 USD/person/year but his offer was ignored. Activists launched a campaign, but the decision of South African government to import these medicines was blocked with a lawsuit by the big Pharma.
CIPLA made another proposal of reducing costs, offering treatment for 200 USD/person/year. Initially generic medicines from India were attacked as "counterfeit, illegal and low quality". Though Africa provided less than 1% of the income of the big Pharma, it opposed the import of low cost medicines in Africa fearing that such practices will undermine their long term incomes from rapidly developing countries like China and India, and that they might put pressure on companies in US and Europe to reduce the costs in domestic markets.
In 2003 big Pharma and countries like USA and EU bowed to the mounting international pressure and negative public opinion, and stopped their opposition to import of life-saving AIDS drugs in Africa. In the mean time, between 1996 and 2003, when people could have been treated, more than 10 million persons had died needlessly in the developing world.
To avoid similar challenges to its control in future, since 2003 Big Pharma has launched other measures with the support of World Trade Organization and governments of USA and EU - an international trade agreement called TRIPS, and other bilateral trade agreements. India's patent laws have also been changed so that it can not challenge the Big Pharma.
Comments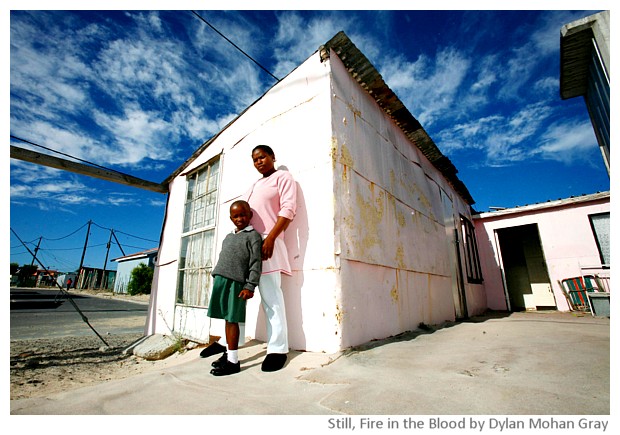 I remember participating in different initiatives around the end of 1990s and the beginning of 2000s to talk about the situation of HIV positive persons especially in Africa and their lack of access to the anti-AIDS treatment. I also remember the joy when the Big Pharma had been forced to withdraw its court fight against the import of generic anti-AIDS drugs in South Africa. Still Dylan's film has managed to surprise me by providing new insights in the complex issue of access to medicines and human rights.
Access to medicines has different aspects and point of views. "Fire in the blood" manages to present them in an easy to understand manner by focusing on the stories of the people. It uses a lot of historical footage. It has many well known personalities like former US president Bill Clinton, archbishop Desmond Tutu and the south African icon Nelson Mandela, talking about the issue of medicines. It also presents interviews with different persons who had played a key role in the fight against the Big Pharma like Jackie Achmat and Jamie Love. Photography, music and editing of the film are wonderful.
At the end of the film, it is easy to feel disgusted by the behaviour of the Big Pharma and the support they still manage to get from US and EU Governments. The film makes the point that in spite of all their talks about human rights and high principles, Big Pharma with support from willing governments was responsible for millions of deaths due to lack of access to affordable medicines.
It is also discouraging to understand that though that particular fight was won by ordinary persons, similar fights about other issues such as medicines and life-saving technologies, tobacco, food, seeds and nature are still going on with little attention from the rest of the world.
The ownership of corporations controlling Big Pharma has links with big media companies - they have big institutions, famous names of experts and academics, they use and manipulate concepts like free choice, liberty of expression and free markets through popular and specialized media. They create philanthropy foundations, run beautiful advertisements of the good work they are doing, they "donate" free medicines for the "diseases of the poor" - all the while consolidating their control on lives and deaths of people!
Personally I am not a pessimistic person. I believe that change will come. None of the worst tyrannies of the world has lasted for ever. History shows that when the despots and dictators feel strong, the seeds of their destruction are growing in their bellies. So the reign of the corporations will also end. The question is, while we wait for the change, who is going to pay the price of their reign with their lives?
Do not miss on "Fire in the blood", it is worth watching!
***
Back to the Home-Page - Index of Mondovisioni Film Festival 2014