Fatal

Assistance Review of the documentary film by Raoul Peck

Review by Sunil Deepak (16 January 2014)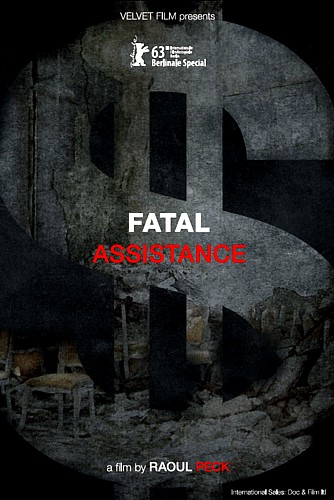 Fatal Assistance, the documentary film by director Raoul Peck, follows the massive destruction in Haiti caused by an earthquake on 12 January 2010. It looks at the promises and the challenges of the country's reconstruction. It paints a dismal picture of the response by the international emergency humanitarian-aid world to the tragedy.
"Fatal Assistance" was a part of the International Documentary Film festival called "Mondovisioni" that was held at Kinodromo - Cinema Europa in Bologna (Italy) from January to April 2014. "Fatal Assistance" was shown on Wednesday 5 March 2014 at 9 PM.
Introduction
Natural disasters like earthquakes, cyclones, floods and landslides and man-made disasters like bombs and wars can cause massive destructions and loss of human lives. The global TV networks and the 24x7 TV news channels provide a trans-national platform to news about such disasters as they occur, showing horrifying images of destruction and human suffering. The reach of the news channels is accompanied by the growth of the social media, so that enterprising individuals can share information, pictures and videos about the events, adding a more personal human element to the far-away news. Usually this results in outpouring of popular support and donations as people wish to help those affected by the disasters.
A whole "emergency humanitarian aid" industry has sprung-up around natural disasters. Thus industry swings into action as soon as the news breaks out. The roots of this industry are mainly based in the developed world especially in Europe and USA where important humanitarian organisations are based with their offices across the world and with budgets that rival national budgets.
"Fatal Assistance" touches on this theme by focusing on the damages caused to the buildings and homes in Haiti, their impact on peoples' lives and the international humanitarian efforts for their reconstruction.
The Film
On 12 January 2010 a massive earthquake, 7 degrees on the Richter scale, shook Haiti. About 220,000 persons died in the disaster according to the estimates by Haitian Government. Thousands of buildings and homes collapsed in the earthquake. The scenes of the tragedy dominated TV news-screens around the world and countries promised millions of dollars' worth of aid.
An International Commission for Reconstruction of Haiti (ICRH) was formed under the guidance of ex-president of USA Bill Clinton. UN agencies, bilateral government agencies, international emergency humanitarian organisations and NGOs arrived in Haiti to promote the reconstruction and ensure health care, rehabilitation, education and community support.
As months passed, it became clear that aid actually received was a small part of what was promised and it was not enough to cover the cost of US army to clear all the debris of the collapsed buildings and homes. Thus, reconstruction was difficult and extremely limited.
People were forced to come out and occupy whatever open spaces they could find to set up make shift shelters as their homes.
The response by the different agencies and organisations was chaotic. There were many duplications and unnecessary competitions among the organisations in some areas because different organisations had approved projects to carry out the same work - for example, 4 organisations were working on cleaning the same canal. On the other hand, lack of coordination meant that many other areas were left uncovered as no organisation was working there.
Some organisations worked on making new homes. However, this was also not planned properly. In one example shown in the film, a rocky area 18 km away from the city was selected for building homes. It lacked essential services and houses were built without toilets or kitchens, and when it rained, water came inside those houses.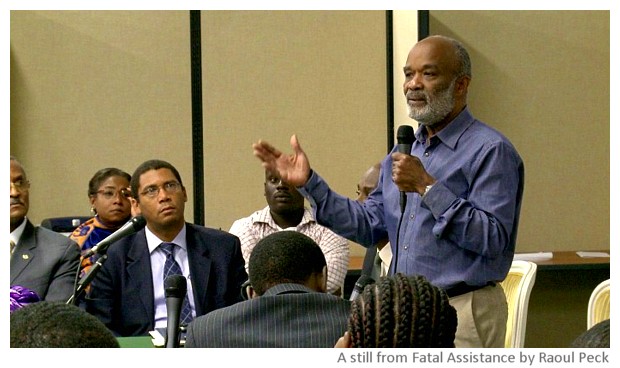 The film also shows the human dimension of the tragedy in different ways - on one hand, important international figures like Clinton and Sean Penn who, in spite of their good intentions, seem to play the role of supermen and heroes, on the other, Haiti's president Preval and prime minister Bellrive, appear powerless in front of the foreigners who have the money and the ideas they wish to implement without talking about them to the locals. In a scene, the Haitian members of ICRH denounce that they are in the commission just in name, they are completely ignored and are not involved in any decisions.
Comments
The film presents a classic textbook case of how not to deal with development work. Unfortunately, in emergency situations, it seems impossible not to fall in the traps of rich donors dictating the kind of "help" they want to give. It is difficult to get out of the chaos because "humanitarian help" is part of countries' foreign policy and trade-commerce related issues are important in the aid-programmes. Thus, millions promised during the emergency, are given through contracts to expatriate companies, who want to earn and for them helping persons is secondary. In the end, large amount of aid-money comes back to them through their own companies.
Interference in the national elections, controlling and deciding without involving local partners, as shown in the film are things that are known to all the actors involved in the situation, though they are hidden behind rhetoric and double-speak.
Personally I think that film's message that the money should have been given directly to people, was a little naive. I think that it leads to other problems and tragedies. Corrupt bureaucrats and corrupt politicians on one hand and difficulties of managing huge amounts of sudden cash, both contribute to it.
Local organisations and international NGOs with long history and experiences of working in those communities are both better placed to identify needs and provide appropriate support in emergencies. However they are usually small organisations and can not compete with big multi-national organisations that control the international emergency-aid industry. They are also few and can not respond to the enormous needs that are there in such situations.
Finally I think that nothing can substitute the country's own management capacities and their insistence on coordinating the relief efforts. Ideally they should refuse aid which they can not coordinate. It does become however very difficult to resist the pressures and controls of international organisations, who can bulldoze all the national efforts.
Though the chaos are caused by faulty planning and implementation guidelines and procedures decided in Europe or USA, it is the persons who work at the frontlines for these organisations who take the blame and try to find solutions. The film shows different moments of anguish of such persons, moved by idealism and a desire to help, who find themselves caught between the limits of their roles and their desire to help those whose suffering they are witnessing. They are the ones who salvage the international humanitarian aid by their personal humanism and testimony.
***
Back to the Home-Page - Index of Mondovisioni Film Festival 2014