Marta's Suitcase

Carrying Pain & Fear Review of the documentary film by Günter Schweiger

Review by Sunil Deepak (12 January 2014)

"Marta's suitcase" (La maleta de Marta) by director Günter Schweiger is an unusual documentary on a social issue - violence against women. It is unusual because it touches on areas usually ignored by discussions on this subject. The film travels between Spain and Austria, as it looks at the lives of women and men touched by the violence.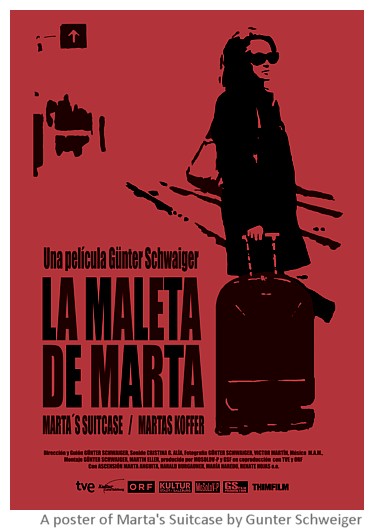 "Marta's suitcase" was a part of the International Documentary film festival "Mondovisioni" held in Bologna (Italy) at Kinodromo between January and April 2014. It was shown on Tuesday 1 April 2014.
Introduction
"Violence against women" is also called "domestic violence" as it usually occurs within the home-walls and the perpetrators are mostly husbands/male companions of the women. Less often it may be perpetrated by brothers, fathers or other men in the family. For this reason, it is also called "intimate partner violence". The violence can be emotional, physical and/or sexual.
The impact of emotional violence is usually under-estimated, and people tend to look at it as something not so important. However, it can be equally devastating. It saps away the victims' self-confidence, hopes, dreams and autonomy, leaving the persons more vulnerable. It may also be the first step of a cycle that leads to physical and sexual violence.
Domestic violence is surrounded by a strong sense of stigma and a sense of shame. Thus, women and children who are victims, also feel judged negatively by others and made to feel that it was their fault. Persons and institutions, who are supposed to provide support such as the police, often share the society's mindset that it is not important, it is an internal family matter and that men have a right to hit their wives if their wives do not behave properly. Thus, instead of providing support, they may even ridicule the victims for complaining. On the other hand, organisations providing refuge or support to battered women are sometimes depicted as creating unnecessary fuss and "destroying the families".
Finally, the words "domestic violence" can give an idea that it is about minor violence, in reality, it usually leads to broken bones or even death. It also results in emotional scars that may never heal, not just in the women victims, but also in the children.
Film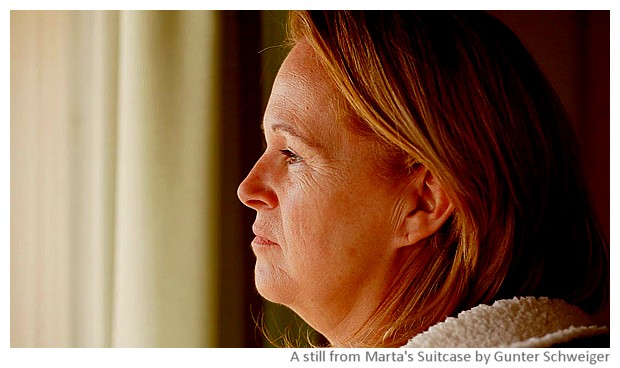 Marta, an Andalusian woman in Spain, asked for separation from her husband in 2000. At that time her two daughters were 12 and 15 years old. One day, while Marta was crossing a street, her ex-husband, a pharmacist, attacked her with his car, breaking the bones of her legs and then attacked her with a knife, cutting her in different places including her neck and abdomen. He was sentenced to prison while Marta underwent numerous operations.
The film presents Marta's testimony about what had happened and her fears because her husband is out of prison now and she knows that one day he is waiting to attack her once again and to kill her. The police and the legal system in Spain does not take Marta's complaints seriously, as her ex-husband had completed his punishment and has not done anything illegal. Marta is forced to hide and change homes and towns, in search of a safer place.
The film also talks to some Austrian psychologists and mental health specialists dealing with men who perpetrate violence against women, to discuss why men behave this way. The film also has some interviews with men who had been violent in the past to ask them to explain why they had behaved the way they did.
Comments
It is a very hard-hitting film. To watch Marta tell what had happened and look at the signs of the violence on her body, and to hear about how her own mother and other family treated her after the violence, how it changed her relationship with the world and with her daughters, is very moving.
Marta's family from a small town in south of Spain is ashamed of her for bringing dis-honour to the family and for having made different life-choices. Her mother felt that what had happened to Marta was her own fault because she had walked out of her marriage.
The film shows that even in a country with excellent support services such as Austria, the persons dealing with victims of violence say that their shelter for battered women had to turn away more than 50% of the women because they did not have enough space for them.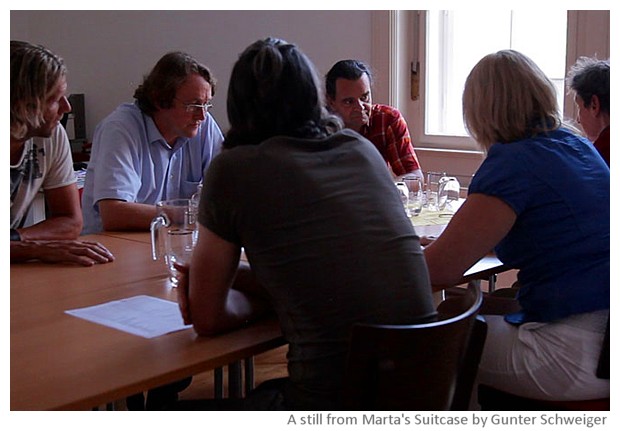 An interesting part of the film is the interviews with psychologists and the men who had been the perpetrators of violence in the past. The issue of domestic violence is kept under wraps and ignored. However when one does talk about it, it is usually in terms of victims' point of view and the services that are needed to support them. In such discussions, the perpetrators are like monsters and criminals, and thus the discussions are exclusively in terms of legal measures for punishing them and for imprisoning them. The film makes you think about this and raises new ideas about prevention and reduction in domestic violence by designing interventions targeted at men.
Violent men, or rather men who come to violence, are usually insecure. When they are confronted with ideas such as their wives may be feeling attraction for other men (real or imagined) or may be leaving them because they are not happy in their marriages, these men do not have the skills of articulation, expression of their feelings and discussion. Part of it may be because of the way our societies raise male children and adolescents and the societal representations of masculinity and femininity. Thus, the men may also feel as victims and impotent to change anything, responding to the situations they perceive as threats to their self-image and masculinity, only with violence.
The violent men in the film also feel victims. They say, "She made me lose my mind and turn violent". Due to psychological violence that usually precedes physical and sexual violence, often the victims also feel "guilty" that somehow they themselves were responsible for provoking the violence.
However these insights stimulated by the film about the role of the perpetrators in the violence and perpetrator-victim relationships, point towards different and complex issues. Since domestic violence is very common - in some countries, more than 50% of the women face it at least once in their lives, and it affects both rich and poor homes, I think that the issue of male behaviour in the violence requires urgent research and discussions.
The film is a bit long and also a little repetitive, but perhaps that was my impression because I am familiar with the subject and have been involved in research in this area. Almost all the films planned for the Mondovisioni festival that I have seen so far, were 1 hour 10 minutes to 1 hour 25 minutes long. I feel that this length is excessive for documentaries and most of these films could be shorter by 10-20 minutes, and become more incisive. However, this small criticism does not take away from the hard-hitting impact of Marta's suitcase!
***
Back to the Home-Page - Index of Mondovisioni Film Festival 2014