John and Jane

(2005) Works of Avijit Mukul Kishore

Credits: Director: Ashim Ahluwalia; Cinematography: Mohanan K.U., Avijit Mukul Kishore; Editor: Ashim Ahluwalia, Shai Heredia; Sound: Mohandas V.P.; Music: Masta' Justy
Review by - Cameron Bailey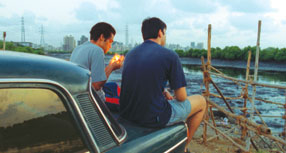 In vast, fluorescent rooms, thousands of ambitious young Indians talk to people in Kentucky, California or Idaho. Bridging continents by telephone, they pitch products and soothe frayed consumer nerves. As they troubleshoot, they dream of America. As they dream, they change. What is it like to transport yourself to a remote land you've never even seen? How does it feel to live so far outside your own body? Welcome to the world of offshore call centres.
John & Jane is an astonishing look at the souls of the outsourced. Shot on 35mm and composed with unsettling grace, this documentary finds an entirely original and fitting language to express the eerie dislocation of virtual work. The lives it depicts are real, but the film's approach gives those lives the scope of speculative fiction.
Glen and Sydney have taken Western names, partly for convenience, partly for their own pleasure. They sleep during the daytime and work in the middle of their night, following American business hours. Neither of them has ever left India.
As part of their training, they learn the meanings that work, money and God hold for Americans. In classes that could be read as satire or tragedy, they study shopping flyers as though they were textbooks. Some begin to adopt American values as their own. One dreams of buying his own Spanish-style villa. Another notes, "Everyone who's ever gone to America gets rich." When their shifts end, Glen and Sydney go back to traditional Indian homes, with simple amenities and mothers who urge them to eat.
Director Ashim Ahluwalia builds a story of transformation that becomes more and more engrossing - yet Naomi still comes as a surprise. Blonde down to her eyelashes, she speaks with a kind of cyborg-Midwest accent. "I'm totally very Americanized," she asserts. Ahluwalia's resonant portrait shows Naomi and her coworkers to be products of America, yes, but also of India and of their own satellite fantasies.
Documaker Ashim Ahluwalia's "John & Jane" is a sophisticated, widescreen depiction of workers at a Mumbai call center, artfully putting a face to the voices of those who serve American customers. Ahluwalia foregoes many of the elements commonly associated with contemporary non-fiction film, from video to handheld mobility, and opts for highly controlled and composed lensing in 35mm. Some viewers may be lulled by the pic's sheer elegance into thinking it's a drama, which may help it gather commercial potential in overseas markets.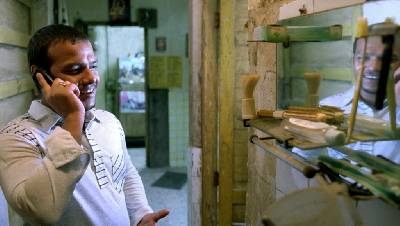 The film's classy surface, though, conceals a lack of depth, as it fails to provide a greater understanding of the hot-button issue of outsourcing.
Indeed, "John & Jane" is perhaps most notable for how non-ideological it is in its basic mission to observe six such Indian workers on the job and at home. Focusing on personal stories, Ahluwalia contrasts the unhappy and foul-mouthed Glen and the tired, unsatisfied Sydney with the ultra-optimistic Oaref (known as "Osmond" at work, in a typical example of an agent's Anglicized nickname), who believes that he can be independently wealthy in just a few years, and upbeat blonde-haired Namrata, aka "Naomi."
It's not hard to grasp why Glen exclaims, "I hate this fucking job!" as ace lenser Mohanan & Mukul Kishore surveys the antiseptic, cubicle-lined call center. (Ahluwalia cleverly positions his shots as if they were from security cams.)
The job's deadening aspects come through even more starkly when young educated Indians, most unused to hawking products, find themselves trying to convince retired grandfathers to buy something none of them believes in -- in this case, "emergency" medical systems. Soundtrack also picks up the prospective Yank customers on the other end of the line.
John and Jane - Review By Robert Koehler
Ahluwalia provides only a glimpse of what these young Mumbai workers feel and experience, partly due to the decision to jam six profiles into under eighty minutes' playing time. Pic overall lacks the revelatory moments of top-notch cinema verité, just as it takes no position on whether or not globalization promises to expand world economic opportunities, especially in the developing world.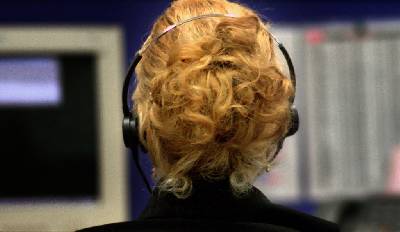 Doc is formally handsome and sleek, with a sophisticated soundtrack (sound design by Ahluwalia himself) layering voices, natural sound and a complex mix of contemporary electronic music to underline the story's East-meets-West aspects. Snippets of pronunciation classes are ironic, given the pic's use of English subtitling for the heavily accented English dialogue.
A meditation on divided identity, as a group of Mumbai call-centre workers - 'outsourced' labour, supposedly one of the flowers of globalisation - seem transformed by their relationship to the angry, lonely or baffled American callers they service. For each of them, this takes a different form: some fight to retain their own ethnic values (despite compulsory 'accent elimination' classes, and training seminars that preach 'American values' like 'achievement in success'), while others rush to embrace the opportunities to assimilate the work provides: Oaref is an ultra-optimistic self-help fanatic, convinced he can become rich, while Namrata ('Call me Naomi!') is a self-deluded true believer in all things Western, who claims, despite all available evidence, to be 'naturally blonde'. As an indictment of the victims of the capitalist dream, this is remarkable. As a piece of filmmaking, it's elegant, disturbing and unforgettable.
***
Back to the Home-Page - Back to Index of Avijit Mukul Kishore