Avijit Mukul Kishore

Cinematographer & Documentary Film-maker from India

Avijit Mukul Kishore or Mukul, as he prefers to be called, is a film director and cinematographer based in Mumbai
(India). His interests cover other aspects of film-making as well.
Mukul was born in Lucknow (India) on 29 August 1969. He grew up in Delhi studying at Salwan Public school and Sardar Patel Vidyalaya. He is a graduate in history from Hindu college of New Delhi. During 1987-1992, he worked with Feisal Alkazi's Music Theatre Workshop, as well as working for programmes aimed at children and adolescents on Doordarshan, the Indian state TV channel.
After a course of cinematography at the Film and Television Training Institute (FTII) in Pune (India) in 1995, he came to Mumbai. In a short span of time, he first built up an impressive portfolio of work as a cameraman, some of which has been shown at international film festivals and has won critical acclaim. As a film-maker, his first film was Snapshots of a Family Album in 2003. Since then, he has made an equally impressive portfolio of his films.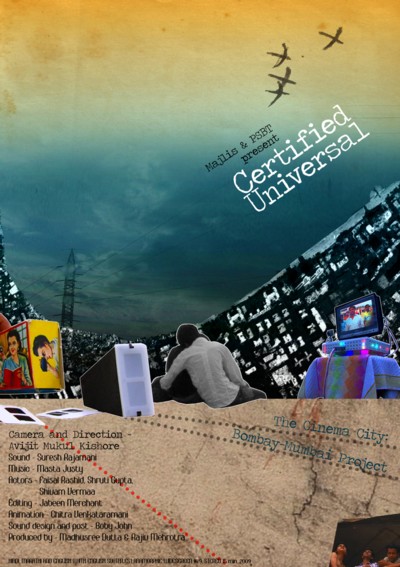 During the initial years, Mukul worked as a cameraman with some very well-known Indian TV programmes such as Kaun Banega Karorpati, Rendezvous and Kamzor Kadi Kaun. He was also involved in teaching of students interested in documentary film-making. In 2003, he made his first film as a director, Snapshots of a family album. Avijit Mukul Kishore has been involved in lot of documentary films. "I don't remember all of them", he says. This page presents information about some of his work as director and as cameraman for documentary and feature films.
In a conversation in 2013 Mukul shared some information about his new work: "I have just completed a long film on contemporary art in India. It is called 'To let the world in'. Its first part features twelve artists while the second part features 16 artists. It will premier at the Sheffield Docfest, on 13th and 14th June 2013."
Since then, he has made many other films including the widely acclaimed Nostalgia for the Future (2017) with Rohan Shivkumar, Indian Space-dreams (2019), Squeeze Lime in your Eyes (2019) and Election Diary (2023). Many of his films have been shown in national and international festivals. Mukul is also very active in writing, teaching and talking about films - for example, you can check his article (2023) on the films of artists M.F.Hussain and Tyeb Mehta, a recording of his Facebook Live session Film Thieves from 2020, and his Masterclass (2020) on YouTube on Lensing the City. You can also watch different episodes of his video-talks called Filmi Shehar on the Third Eye. He also writes for the FTII's alumni association's online magazine, GraFTII.
Avijit Mukul Kishore can be contacted at: avimuk(at)yahoo.com and through his facebook and Instagram pages.
Some of Avijit Mukul Kishore's Films
One-on-One with Avijit Mukul Kishore
(by Dipankar Sarkar, From Upperstall.Com, 30 July 2022)
After studying Motion Picture Photography at the Film and Television Institute of India (FTII) in Pune, Avijit Mukul Kishore has been extremely successful in building up an impressive portfolio of work. He began initially as a cinematographer, who has collaborated with filmmakers like Pankaj Rishi Kumar, Madhushree Dutta, Fareeda Mehta, and Ashim Ahluwalia amongst others. Working on film and across various video formats, his artistic endeavours also include teaming up with several visual artists on different installation art projects. With Snapshots From A Family Album (2004), Avijit began his directorial journey. His films represent his direct engagement with the world, be it as a vérité investigator, a poetic commentator or overall, a committed and reflexive participant. I recently caught up with the filmmaker to discuss his work both as a cinematographer and as a director after he graduated from the FTII. ... Read the full interview on Upperstall.Com
***