Made in India

(2004) Works by Avijit Mukul Kishore

A rural artist paints her autobiography, images of Bollywood movie icons are erased after a week-long run of their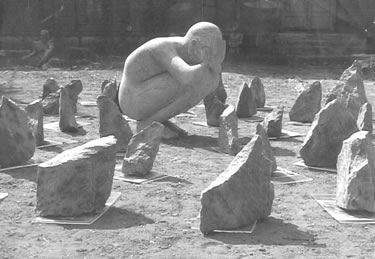 films, the national flag flutters on 150 kites, installation artists paint pop icons on the rolling shutters of shops, religious icons jostle for attention with plastic flowers on the vendor's cart, after the WTC the sale of toy planes goes up. Symbols of nationalism become a fashionable commodity. Made in India is about contemporary visual cultures in India.
ABOUT THE DIRECTOR Madhusree Dutta has been making non-fiction films since 1993 on subjects related to gender, identity, and marginalization. Her films have been at national and international film festivals and won awards. Dutta is also executive director of Majlis, a center in India that campaigns for cultural literacy, produces films and multidisciplinary art works, and is compiling a current affairs video archive.
Camera: Avijit Mukul Kishore, Editing: Shyamal Karmakar, Sound: Vipin Bhati, Music: Arjun Sen
***
Back to the Home-Page - Back to Index of Avijit Mukul Kishore