To Let The World In

(Documentary film, 2013) Works of Avijit Mukul Kishore

"To Let The World In" is a two-volume film project by director and cinematographer Avijit Mukul Kishore that looks at a significant period in the history of contemporary Indian art from the early 1980s to the present day, featuring the work of three generations of visual artists.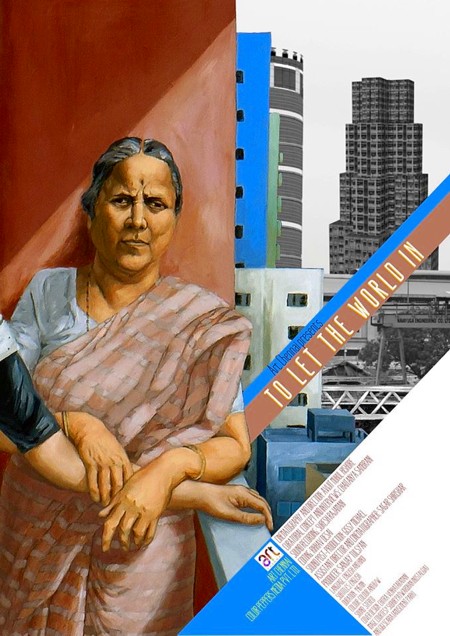 Poster of To Let the World In
TO LET THE WORLD IN - Volume 1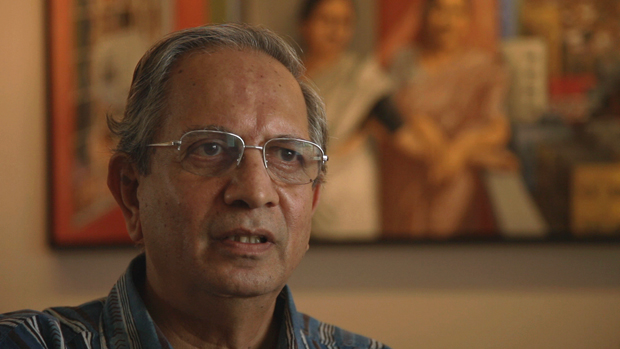 The first volume of the film chronicles the spirit and legacy of a movement that marked the return to narrativity and figuration in Indian art. The exhibition titled "Place for People", which was held in Delhi and Bombay (now Mumbai) in 1981, brought together a group of artists and a critic who sought to explore locality, class and politics in their practice. The film traces the artists' concerns reflected in their work, tracing it down to the present day. Among the inheritors of the legacy of this movement were younger artists who continued this dialogue and also became the interlocutors for the work started by the earlier generation.
The artists featured in this volume are Arpita Singh, Gulammohammed Sheikh, Vivan Sundaram, Nilima Sheikh, Nalini Malani, Sudhir Patwardhan, Ranbir Kaleka, Pushpamala N., Anita Dube and Atul Dodiya along with art critic and curator Geeta Kapur. Their conversations see frequent visitations by the endearing spirit of Bhupen Khakhar, their friend and co-artist.
TO LET THE WORLD IN - Volume 2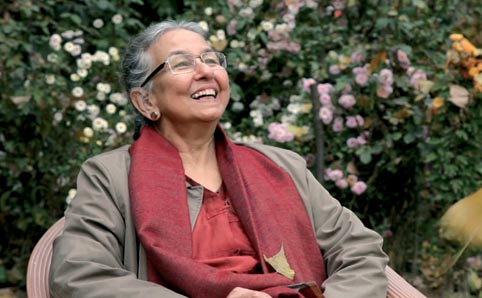 The second volume of the film starts with the tumultuous context of art practice on the cusp of India's economic liberalisation and the re-assertion of religious fundamentalism in Indian politics. The altered context for art-making in a globalised environment, the crisis in art education in the 1990s and the need to frequently reinvent themselves to adjust to a changing world, are the preoccupations of this group of contemporary artists. An engagement with history, subjectivity and the politics of place find prominence in their work, in their continuing dialogue with the narrative movement of the 1980s.
The artists featured in this volume are Anju Dodiya, Archana Hande, Benitha Perciyal, Sharmila Samant, Parvathi Nayar, Riyas Komu, Tushar Joag, Shilpa Gupta, Gargi Raina, Sumakshi Singh, T.V. Santhosh, Nataraj Sharma, Gigi Scaria, Reena Saini Kallat and Jitish Kallat.
The film was produced by Art Chennai, to accompany the show "To Let The World In: Narrative and Beyond in Contemporary Indian Art", curated by Chaitanya Sambrani, held in Chennai in 2012.
To know more about the film you can read this blog post on Bakky19's blog. You can also read a document explaining the whole initiative of To Let The World In: Narrative and Beyond in Contemporary Indian Art (in PDF).
Credits
Cinematography and direction - Avijit Mukul Kishore
Curatorial concept and interviews - Chaitanya Sambrani
Sound recording - Suresh Rajamani
Additional sound recording - Asheesh Pandya
Editing - Rikhav Desai
Sound post-production - Gissy Michael
Assistant director and cinematographer - Sagar Shiriskar
Additional assistance - Mayank Mathur, Raghu Tenkayala and Sabari Pandian
Project manager - Pooja Dhingra
Producer - Sanjay Tulsyan
Info
Language - English and Hindi
Subtitles - English
Duration - Volume 1 - 93 min, Volume 2 - 53 min
Colour - Colour and B/W
Sound - Stereo
Cover collage by Chitra Venkataramani
Images - Sudhir Patwardhan (Nostalgia), Gigi Scaria (Amusement Park) and Bhupen Khakhar (Man With A Bouquet of Plastic Flowers)
Screenings
World Premiere: Sheffield Docfest, 13th and 14th June 2013
Preview screenings: Film Appreciation Course, National Film Archive of India, Pune, 6th June 2013; International Documentary and Short Film Festival of Kerala, Trivandrum (7-11 June 2013).
***
Back to the Home-Page - Back to Index of Avijit Mukul Kishore