Kalakaar

Visual artists in contemporary India Works of Avijit Mukul Kishore

Dr Sunil Deepak, July 2013

Avijit Mukul Kishore's documentary film in two volumes, "To let the world in", provides an intimate and rare glimpse of some of the better known visual artists from contemporary India.
To Let The World In - documentary by Avijit Mukul Kishore
The world of visual artists is a hidden world and a largely ignored world, except by the people who deal with art. The only exceptions are when suddenly some artist gets in the limelight because of some scandal, like M. F. Hussein. In the recent years, economic magazines and investment bankers have also started talking about some Indian artists whose works command big money. However, both these kinds of spotlights on the artists, have little to do with them as artists and with their art.
This article is about the first volume of the documentary film "To let the world in". The film presents brief interviews with some important visual artists of contemporary India, and shows some of their works. The interviews deal with issues like early influences, finding one's own specific path of artistic expression, and interactions between artists. The visual arts touched in the film vary from paintings, sculptures, installations, photography and performances. A key area of discussion on which many of the women artists talk about is gender and art.
The film starts with artists born in the 1930s and proceeds towards younger persons.
UNDERSTANDING ART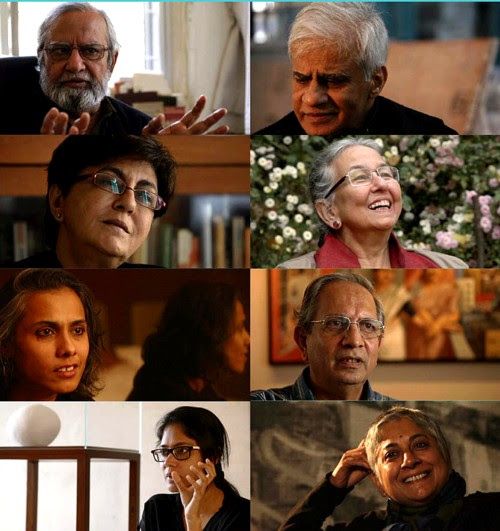 Whatever be the area of a creative expression - writing or painting or acting - people are always interested in understanding what made the artist reach that specific artistic expression. "What did you and why did you want to express that?", they ask.
Arpita Singh, one of the artists in the film illustrates this when she says, "If I have made a fish, you should also see a fish. But people ask you 'what is it?' so you have to write down everything that this is a fish, this a flower ..."
I think that there is some confusion among artists and among general public in differentiating between the "artistic expression" from "understanding art". At one level, art is about experiencing it, feeling it emotionally and instinctively rather than trying to understand it logically. At another level, somehow people are also interested in whys and hows of the art.
I feel that not all persons who are good at "artistic expression" are equally good at "explaining and understanding their art", and that these are two specific and separate skills. Good artists may be skilled at expressing their feelings and emotions in their art-form, but they may not be good at explaining the subconscious processes and ideas that prompted that artistic expression.
To understand this difference, I like to use the example of persons with obsessive dreams. A person can be a wonderful dreamer and may have strong obsessions about some dreams, but that person can not always understand the significance of those dreams and may need the help of a psychologist or a psychiatrist to understand that. However, most of the time we are happy with our dreams as they are, we do not go to psychologists or psychiatrists to understand them.
Thus, in my opinion, when people say that art-experts and art-critics are "frustrated artists" (or even book critics and film critics), I think that they are confusing between two different skills.
Coming back to the film, seeing different artists tell about their creative processes and their lives, was a wonderful opportunity to look at their art through their eyes. It adds new dimensions to their work. For example, I felt moved by the explanation of Sudhir Patwardhan about the changing relationships between the city and the nature, and his conclusions about painting tiny bits of the city seen through windows.
Just seeing the artists as persons can also add to our understanding about their work, though I am not sure if there are ways to define that understanding as "correct" or "wrong" - it becomes your specific interpretation of their work. For example, after listening to Arpita, the images of nude women in the foreground and military men in the background in her paintings, were no longer generic expressions of violence against women during wars but for me they became a depiction of the situation in the north-east of India.
FINDING ONE'S OWN SPECIFIC PATH
Artists explaining how they slowly discovered their own specific way of being an artist was an area that fascinated me in the film. Thus, Arpita's process of making, cancelling and re-making, Nalini Malani's need for an immersive experience of her art, and Nilima Sheikh's decision to put her children in her paintings, were interesting in understanding their works and also the kind of forces that gave directions to their artistic expressions.
The artists come out of their art schools with knowledge about techniques, norms and the examples of famous masters. Then, they need to find their own distinctive artistic voices that can move away from the recommended techniques and norms, and become something new. In this process, the artists in the film illustrate the importance of inter-action, dialogue and conflict with their peers. They talk about coming together to hold exhibitions or living together in the same area where they can interact regularly.
The name of late Bhupen Khakhar came up frequently in these discussions in the film, as one of the important artistic influences on different artists in contemporary India.The film pays a special homage to him by showing some of his works - thus, he is the only non-living artist featured in the film.
AGAINST THE CONVENTIONS
Artists are expected to follow their own social rules and flout the conventions. Different artists in the film express it by depicting subjects that are usually ignored in mainstream medias - violence, exploitation, nude bodies, vaginas and even homo-erotic imagery.
I know that "flouting conventions" is a kind of stereotype, yet it was comforting to see that in spite of the rise of the conservatives of different religions in public spaces in India, Indian contemporary artists are willing to raise questions about those issues that are usually hidden behind the walls of morality and hypocrisy.
THE DICHOTOMIES
There are different dichotomies of meanings given to words and concepts such as - visual versus spoken cultures and popular versus elitist art, that were seen as static but have revealed to be more dynamic. The film touches on some of them and raises questions about them.
What is the role of visual arts today? With social media, TV and films, and digital art, are visual arts going to change and disappear? If photography is a visual art form, how is it affected when millions of persons start taking billions of photographs with their cell phones and putting their personal exhibitions up on Facebook, Twitter and Flickr? Is it democratisation of art or the loss of this art-form because it is now a common skill and not a special skill?
In the film Pushpamala talks about the changing meanings of elitist art meaning some higher quality of art form that is accessible to a few, while popular art is that is practiced by simple persons in their communities and homes and should be accessible more easily to the people. She underlines the contradiction by pointing out that today the "elitist art" of Rabindranath Tagore is far better known and accessible to public compared to the more "popular" art of Kalighat paintings.
Before human beings learned to speak, read and write, we were visual beings and we expressed ourselves mainly through visual mediums. For long part of our history, reading and writing were elitist skills reserved for a few and thus, we continued to be mainly oral and visual societies. Then over the past centuries, gradually reading and writing became more accessible to people and slowly we had started to become words-based societies. Finally, now slowly the pendulum has started to move in a different direction, where people can click pictures with their mobile phones and share them or share short-hand messages that use visual icons. So in future will we go back to being visual societies? What would that mean for the visual arts?
I am still wondering about such questions stimulated by watching the film.
ART AND MARKETING
How do we compare and who compares artistic merits, deciding who is a better artist? The film is about certain artists who are considered important in contemporary India. How was their importance decided?
I can imagine that defining someone as "good" or "great" artist is a result of interplay between the skills of the art-making along with a range of other factors including luck, mentorship, influence and the ability to market oneself. Were it not so, we would not have so frequently persons who become famous many years or decades after their death, while during their life-times no one recognizes their artistic worth.
I was wondering about it while watching Pushpmala in the film as she prepared herself for a performance. How is the performance of a visual "artist" different from that of a person like Lady Gaga or Poonam Pandey, who are able marketers of their skills? Is the difference only in their aesthetics, attitudes and motivations?
And now with the increase in the aggressive marketing of some persons on the social media and their ability to create news, will the criteria for defining good artists change in the future? I can imagine that already some artists with better social marketing skills get more attention from media and their art sells for more - will they be the important artists of our future?
ABOUT THE FILM
I loved watching the first volume of "To let the world in" for stimulating all these different ideas in my mind. I am planning to watch it again soon. At one and a half hours, it is almost as long as a feature film, yet it rushed past so quickly. There were so many moments in the film, especially while it showed the artists' works, that I wished that I could freeze it and look more carefully at those art works.
In the film, often the screen goes dark, as if the camera-eye is blinking.I felt that as a metaphor of how we can have the world in front of us and yet not see it. The human mind is a master illusionist. Each of our two eyes sees a different aspect of the world, but our mind learns to bring those two views together and we forget that our two eyes can see two different worlds. Our eyes also keep on blinking, adding intervals of darkness in front of our eyes, but our mind makes sure that we do not notice that darkness. The film reminds you about those intervals of darkness.
Film is visually very rich, full of colourful images of different art styles. The interviews with the artists are very unhurried and gentle, leaving them to choose the kind of things they wish to talk about, making it richer also at the level of emotions.
CONCLUSIONS
As a child, I was very much aware of contemporary Indian artists of 1960s including J. Swaminathan, Hebbar, B. Prabha, Jatin Das, Ram Kumar, M. F. Hussein ... I had even met some of them. However, over the past 3-4 decades, I had lost contact with the world of Indian artists. Thus, the artists featured in the film are my reintroduction to that world. Except for Anita Dube, who had been part of an exhibition in Bologna in 2012, I was not even aware of their names.
Hearing different persons in the film talk about Bhupen Khakhar and thinking that I had no idea who he was, made me feel bad, and was a reminder of what I had lost while I had been away from India. Searching for and admiring his works on internet, made me feel better.
I am looking forward to watching the second volume of the film, as well as go back to the first volume, for a more in depth viewing.
***
Back to the Home-Page - Back to Index of Avijit Mukul Kishore