Scribbles on Akka

(2000) Works of Avijit Mukul Kishore

The film starring Seema Biswas, Sabitri Heisnam and Harish Khanna, was directed by Madhusree Dutta, music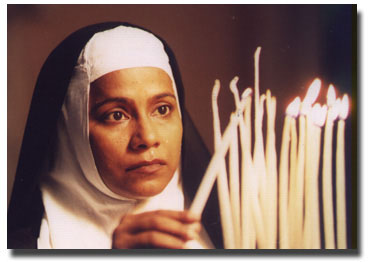 was by by Ilyaraja and cinematography by Avijit Mukul Kishore.
The film was made in three languages (Kannada, English and Hindi). Writings of Mahadevi Akka have inspired the femminist movements and persons believing in equality of all human beings in India. One of the celebrated poems that she wrote said:
"You can confiscate money in hands; Can you confiscate the body's glory?
Or peel away every strip you wear,
But can you peel the Nothing, the Nakedness, that covers and veils?
To the shameless girl, Wearing the white Jasmine,
Lord's light of morning
You fool, Where is the need for cover and jewel?"
Two actresses personify the 'concept' and the 'figure' of Akka in the film. Veteran actress Savitri Heisnaam does a stylised, theatrical rendering of the Akka legend, striding across the Konkan terrain. Seema Biswas, on the other hand, reflects the various dimensions of Akka with a human face, shedding the iconic figure.
***
Back to the Home-Page - Back to Index of Avijit Mukul Kishore