Many People Many Desires

(2004) Works of Avijit Mukul Kishore

CREDITS - Directed by: T. Jayashree; Producer: Sangama; Camera: Najaf Bilgrami, Avijit Mukul Kishore; Editing: Jabeen Merchant; Sound: Girja Shanker Vohra.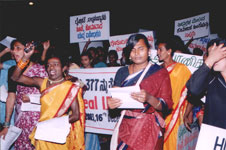 SYNOPSIS "Many People, Many Desires" explores the status (legal, social, political, cultural etc.) of sexual minorities (hijras, kothis, double-deckers, gays, lesbians, transgender and other people oppressed due to their sexual orientation and/or gender expression) in India. It is only since the early 1980s that homosexuality and transgender expressions have become visible "identity issues" in India. Cutting across class, gender, language and caste, the film tells the stories of such persons living in the city of Bangalore.
THE FILMMAKER T. Jayashree is an independent documentary filmmaker based in Bangalore, India. His previous work includes "Annapurna" (1995) which he co-directed, "A Woman's Place"(1998) which he produced for PBS, "Agni Varsha" (2002) on which he wrote the screenplay and served as first assistant director, and "New Americans" (2003) on which he was Associate Producer.
***
Back to the Home-Page - Back to Index of Avijit Mukul Kishore