Om Prakash

Deepak Journalist, Writer, Translator, and also, Socialist & Activist

Om was a writer, thinker, activist close to Dr Ram Manohar Lohia and his socialist party. During the first half of the 1970s, he was closely associated with J.P. (Jay Prakash Narayan) and his call for Sampurna Kranti (Total revolution) along with the students' protest movement. He died in 1975. Below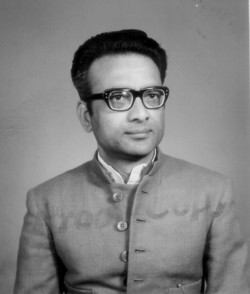 you can find more information about him. He wrote mostly in Hindi and only some times in English.
Books
Om Prakash Deepak's Hindi book "Kuch Zindagiyan Bematlab" (1968 Radha Krishan Prakashan and 2001 Vagdevi Prakashan) was translated into English as Lives without meaning by Ranjana Srivastav. Below, you will find the links for downloading this book in different formats. Please feel free to share the book. Information about any reviews of this book will be welcome, please write to sunil.deepak(at)gmail.com
Download the full book "Lives Without Meaning"
(2) Download in EPUB format for ebook (non-Kindle) readers
(3) Download in MOBI format for Kindle ebook readers
Read Some of His Articles
Read Some of His Book reviews
Fiction
Brief Biography of Om Prakash Deepak
Birth: January 25, 1927 in Allahabad (India) - (D.o.B in the school certificate issued by Kayastha Pathshala, Allahabad, was 4 April 1927)
Death: March 25, 1975 in Delhi (India)
Education: Completed inter college; joined university for B.A. degree but left it mid-way to join the freedom movement of India. In between also did army training.
During 1945-46 he was in Chautala jail in Punjab for his role in the freedom movement.
In 1947-48 he joined the socialist party with Acharya Narendra dev, Jai Prakash Narain and Dr Ram Manohar Lohia. Till Dr Lohia died on 12 October 1967, he worked very closely with him and other socialist leaders.
In 1947 : jailed once again in Delhi during Nepal agitation.
During 1952-55 : worked for Indian Socialist party weekly paper "Sangharsh" weekly in Lucknow
During 1955-58: based in Allahabad, worked for English newspaper "Leader" along with freelancing and doing his own writing.
During 1958-60: based in Hyderabad with "Chaukhamba" weekly newspaper; collaborating also with two other magazines "Mankind" and "Kalpana".
In 1962: spent another six months in jail in Delhi during "Angrezi Hatao" agitation aiming at promotion of use of Indian languages in official work of the Government.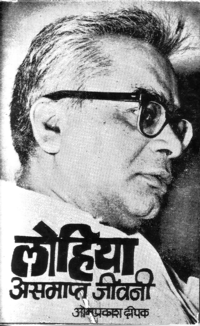 During 1961-75: Based in Delhi, looking after the two socialist party publications "Jan" and "Mankind"; during the same period writing for Hindi weekly magazine "Dinamaan" and started working for "Everyman's weekly" (an Indian Express publication). In the later years he got involved with J.P.'s (Jay Prakash Narayan`s) Bihar movement for a "Return to Democracy" and "Total Revolution". Finally, during these same years, also involved in translation of important literature from English to Hindi.
Born in a Kayasth family, Om was committed in his fight against caste system and decided to use his pen name Deepak as his surname.
Original Books in Hindi: Om Prakash translated about 20 books from English to Hindi. His original books in Hindi are:
***